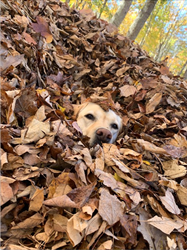 "Outta the car, open the door, I run, run, run, run, spring off, jump high, middle dive I split that big leaf pile right in two – whoooo, hooooo– now I want to see if you can post some video for me to watch too," says Stella, leaf peeping and leaping expert.
AUSTIN, Texas (PRWEB) November 02, 2022
As children, we all remember the brisk air, crisp crinkle of fall leaves – and the excitement of launching ourselves into leaf piles just as soon as they were stacked up. There's a reason jumping in leaves makes such fond memories. It's good for the soul and makes us happy. One dog that reminds us about the joy of leaf jumping is Stella (@dognamedstella). Videos of this yellow lab's epic jumps have been seen and loved by millions of us.
Unfortunately, a lot of people now avoid leaf piles because they can be an ideal environment for ticks and fleas. Although fall's cooler weather brings some relief from summer bugs, ticks and fleas remain active through near freezing temperatures. Leaf piles offer shady, often moist, and cool areas in which ticks and fleas are known to thrive. A single tick bite can transmit a number of diseases, so the best way to stay healthy is to avoid being bitten in the first place.
Thankfully, Wondercide products help families stay protected when playing in the leaves – so they reclaim leaf piles and recapture the joys. And Stella wants to invite everyone to get out there and show off their best leaf moments.
"Outta the car, open the door, I run, run, run, run, spring off, jump high, middle dive I split that big leaf pile right in two – whoooo, hooooo– now I want to see if you can post some video for me to watch too," says Stella, leaf peeping and leaping expert.
In partnership with Dog Named Stella, Chewy has now joined Wondercide to announce the Reclaim the Leaf Pile Contest with a grand prize pack valued at $1,500 and more prizes along the way! The companies are asking for leaf play pictures or videos of families (people and pets!) now - Nov. 20, 2022. Participants can enter by submitting pictures or videos online or by sharing in social media using hashtag #ReclaimTheLeafPile and tagging @Wondercide (@wondercideatx on TikTok).
During the contest, everyone wins with 15% off Wondercide products that will protect pets and families who enjoy the fall fun. On Wondercide.com, the discount applies to Insect Repellent and the Flea & Tick line up that includes flea-and-tick sprays, pet collars, spot ons, and yard spray. The discount is available exclusively through the contest page and is visible during checkout. On Chewy, the discount applies to the entire Flea & Tick line up.
There are many chances to win with prizes awarded each week, finalists (with prizes) and one grand prize winner who will get the ultimate backyard experience valued at $1,500. There is no purchase necessary to participate and full contest rules are available on Wondercide.com.
Wondercide Leaf Play, Prep and Post Tips:
Before grabbing a rake and gathering family, friends and fur-babies, here are some helpful tips from Wondercide to stay safe while playing. Products mentioned are available at 15% off during the contest via the contest page on Wondercide.com and on Chewy.
1. Treat your yard. Before the leaves fall and while they are falling, treat your yard with Flea & Tick Yard + Garden spray. The spray will kill, repel, and prevent fleas and ticks. Do two initial applications within a few days and then use monthly to keep fleas and ticks out of your backyard fun.
2. Use Insect Repellent spray on yourself and the family. Use a repellent on your skin so ticks don't want to bite or hang out. Wondercide's Insect Repellent (sold on Wondercide.com) will repel ticks and mosquitoes, and it kills when they're sprayed directly. Re-apply every hour or as needed.
3. Use flea & tick prevention on your pets. Protect your pets with Flea & Tick Pets + Home spray. For an added layer of protection, choose Flea & Tick Collar or Spot On.
4. Keep an eye on the piles. Always supervise children and pets while they play in the leaves. Make sure they stay away from car traffic, and know where they're at the entire time.
About Wondercide
As seen on Shark Tank, Wondercide is an Austin-based company that has protected almost 2 million families from pesky pests since 2009, and the ticker is still running! The company provides safe*, plant-powered, proven-to-work solutions for those looking for alternatives to conventional pest control products and services. As a Green America Gold Certified business for high standards in social and environmental impact, the company is woman-founded and led, family-friendly, and driven by Fierce Love® to help you Protect Your Pack® – pets, family, kids, homes, indoors and outdoors, and everything in-between. Products are available at Wondercide.com, independent retailers, Amazon, and Chewy. Come be part of our pack at Wondercide.com, Instagram, Facebook, TikTok, Twitter, and YouTube.
Affiliate available through Amazon and for Wondercide.com through ShareASale. Find us here on ShareASale:http://www.shareasale.com/join/121728
About Stella
Stella is a 9-year-old English yellow Labrador retriever who hails from the wild and wonderful state of Maine. She lives with her human family and sister (technically niece) named Mabel, who is a 2-year-old yellow lab. Stella and Mabel take advantage of everything the four dramatic New England seasons have to offer. This is especially true for the fall, when they spend most of their time launching themselves into leaf piles their humans build for them. Stella and Mabel live for family and the outdoors, and their human DOGuments their endless adventures online for people to enjoy. Whether they're exploring the north woods, swimming in Maine's countless waters, or destroying snowmen when winter rolls in, these pups are always busy making the most of their labby lives.
About Chewy
Chewy's mission is to be the most trusted and convenient destination for pet parents and partners everywhere. We believe that we are the preeminent online source for pet products, supplies, and prescriptions as a result of our broad selection of high-quality products, which we offer at competitive prices and deliver with an exceptional level of care and a personal touch to build brand loyalty and drive repeat purchasing. We continually develop innovative ways for our customers to engage with us, and partner with more than 3,000 of the best and most trusted brands in the pet industry offering more than 100,000 products, to bring a high-bar, customer-centric experience to our customers.
*when used as directed.
Weekly Winners:
Weekly winners will be chosen at random and receive a free Wondercide tote bag, 20% off any order on Wondercide.com, and 20% off everything on Chewy.com!
Finalist Winners:
One Finalist will be chosen in each category:
● Best doggo or kitty jump (video or photo)
● Best kiddo jump (video or photo)
● Best family moment (video or photo)
● Best pic or video that makes us smile out loud (video or photo)
Finalists will win a prize pack valued at $280 retail.
● Eco-friendly outdoor blanket from Rumpl in Forest Fade for all those backyard bonding moments
● Wondercide Flea & Tick Yard + Garden refill kit to keep the good times going in the yard
● Wondercide Insect Repellent in each scent: cedarwood, lemongrass, rosemary, and peppermint
● Wondercide 4oz Flea & Tick Pets + Home in each scent: cedarwood, lemongrass, rosemary, and peppermint
Grand Prize Winner:
1 lucky grand prize winner will also win the ultimate backyard experience valued at approximately $1,500 retail.
● Yukon 2.0 Solo stove Essentials bundle with Fire Pit Tools
● Yeti Tundra® 35 cooler
● Fireside popcorn popper from Terrain and Anthropologie
● A $100 gift card to Whole Foods or Trader Joe's to buy campfire goodies