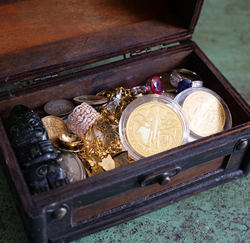 If you can find the golden key, you can have the treasure chest.
SARASOTA, Fla. (PRWEB) November 30, 2020
With a real world treasure chest estimated to be worth well over $10,000.00, the Wonderland Treasure Hunt puts an interesting new twist on a timeless classic.
On November 27th, 2020, imprint Digitas Media, LLC released "The Hatter's Hat," prequel to "Alice's Adventures in Wonderland" by Lewis Carroll. In addition to being a work of art in its own right, the book is said to hold clues to the location of a real world treasure.
"I filled a wonderful old wooden treasure chest up with all kinds of valuables," says treasure hunt creator and author, David Jacobsen. "It's a beautiful site. There are over 100 diamonds, rubies, sapphires, silver, gold, rare collectible coins from the 1600s and 1700s, and more…If you can find the golden key, you can have the treasure chest."
Inspired by books such as "The Thrill of the Chase," "Masquerade," and "The Secret," "The Hatter's Hat" seeks an audience among treasure hunting enthusiasts while offering a whimsical fantasy set within Lewis Carroll's enigmatic world of Wonderland. In addition to being able to enjoy the book itself, readers can search the book for hints and clues, which, according to Jacobsen, provide directions to a precise location somewhere in the United States, where a real world treasure chest awaits them. "I put a beautiful golden key in a second smaller treasure chest, along with a hundred dollar bill with a secret message written on the back. If you can find the clues and figure out their meaning, they will take you to the golden key. And the first person to find that golden key will claim title to the true treasure."
According to Jacobsen, the contents of the treasure chest include gold, silver, over one hundred diamonds, beautiful rubies and sapphires, rare valuable coins dating all the way back to the roman empire, a 24 karat gold-plated Alice in Wonderland charm bracelet, mysterious old stone carvings and more. "I wanted the treasure chest to be visually spectacular," says Jacobsen. "I wanted to create an adventure that would awaken the childhood imagination."
When asked about the value of the treasure, Jacobsen said the following: "It can be difficult to put a precise value on such things. I don't claim to know the exact value of the treasure chest, and of course the value of gold and silver fluctuate daily, but estimates range from around $10,000.00 to $20,000.00…One thing's for sure: you're going to have a good day if you find that chest."
To learn more, visit the official Wonderland Treasure Hunt website, or the The Hatter's Hat book page. The e-book and paperback are now available for on The Hatter's Hat Amazon Page, and the paperback is available on the Wonderland Treasure Website at wonderlandtreasure.com.