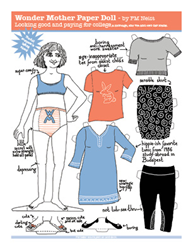 Looking good and paying for college.
Houston, Texas (PRWEB) May 08, 2014
College may not be getting any cheaper, but parents are paying for school at the same rate they always have, semester by semester, at a rate of an arm; a leg; and a scholarship.
But now, kids (or students, if you will) can return the favor, at least for a day at no cost at all with the Wonder Mother Paper Doll. Wonder Mother, a creation of writer-illustrator PM Neist, was designed entirely to give a four-year college salute to the mothers who work so hard to bring their children a college experience that will last four years and an entire lifetime, all at the same time. And since Wonder Mother is free, kids pay nothing for it, which means working mothers won't have to reimburse them for any expenditures. It's win-win.
Wonder Mother- AKA Uber Mom- is, needless to say, flipping awesome. Her stylish poise and impressive versatility make her perfect for almost any situation, from traffic jams to fancy dinner parties to a showdown at the office water cooler. She loves her kids deeply, but also loves keeping them from being deep in debt— and looks good doing it, too.
Wonder Mother is the perfect gift for any Mom this Mother's Day. Having said that, it wouldn't hurt to get the most important woman in your world a day at the spa, too.
Download her today at http://mpsink.com/wonder_mother/.
About PM Neist
PM Neist is a French-born writer and illustrator living in Houston, Texas. Her first book "Barely Behaving Daughters", published in 2013, is available at Amazon.com.
And yes: she's a Wonder Mother.