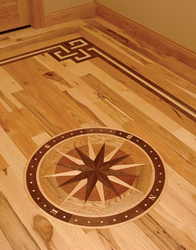 For quality, affordable, wood floor refinishing and wood floor medallions in the Milwaukee area, contact Royal Wood Floors.
Milwaukee, WI (PRWEB) September 04, 2014
Wood floor refinishing is more than just a refresh or a touch up. It's a combination of art and science, along with a healthy dose of experience. This is especially true when it comes to the wood floor medallions. Generally, hardwood floor medallions are not part of the original installation. That's why it pays to have a professional wood floor restoration specialist when it comes to refinishing.
Because medallions are usually installed well-after the initial flooring, they are not the same age. Subtle differences are only visible to a trained eye. Medallions greatly increase the already pleasing aesthetics of hardwood, providing a focal point to center other stylish features around. Medallions not only add to the beauty of the space, but add a certain amount of value.
In a recent survey, conducted by the National Association of Realtors, participants were asked about flooring preference. It came as no surprise, hardwood bested carpet, laminate, and tile. Though tile performs quite well, it still lacks the charm innate in hardwood flooring. Respondents stated tile presented maintenance challenges, particularly tedious grout cleaning. Carpet fared worse still, with study participants stating it loses its luster in just a few short years. In addition, carpet stains easily. What's more, another survey conducted by the International Association of Home Stagers found carpet, along with laminate, to be the least consumer favored flooring choices. Hardwood ranked number one in the same study.
It only requires weekly sweeping and periodic buffing to keep it looking great, making care of hardwood flooring one reason for homeowner and business owner preference. Unlike carpet, hardwood can be refinished and improved with decorative medallions. Carpet frays, mats, and must be completely replaced. Conversely, hardwood can be restored with little effort. Tile cracks and even one tile breaking can mean having to replace many others, if not the entire room or most of the home to keep its continuity.
For more information about this experienced and professional wood flooring contractor, or to schedule repairs by this hardwood floor company, or learn about custom wood styles or the company's inlay and medallion installation services, phone Keith Allman at 414-378-2066. Estimates and appointments are currently available through the company's website, RoyalWoodFloor.com. The company provides top craftsmanship and cares for many types of custom and domestic wood. Visit the company's website for examples of previous work.