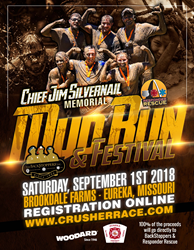 beyond excited to present the Chief Jim Silvernail Memorial Mud Run benefiting The BackStoppers and Responder Rescue. Chief Silvernail was a huge supporter of our First Responders and we want to carry on his passion. - Dave Christoff
ST. LOUIS (PRWEB) July 19, 2018
Woodard Cleaning & Restoration is thrilled to announce the Chief Jim Silvernail Memorial Mud Run. The race features The Crusher Race with 100% of the proceeds benefitting The BackStoppers Inc. and Responder Rescue.
Chief Jim Silvernail, former Fire Chief in the St. Louis area and avid supporter of The BackStoppers, recently passed away after becoming ill in March of 2018. As an honorary member of the Woodard family, Woodard is hosting a memorial mud run in Chief Silvernail's honor.
Woodard is beyond excited to present the Chief Jim Silvernail Memorial Mud Run benefiting The BackStoppers and Responder Rescue. Chief Silvernail was a huge supporter of our First Responders and we want to carry on his passion. The BackStoppers and Responder Rescue are two great organizations who support our fallen heroes. We are eager and excited to honor Chief's memory and offer our support to these organizations going forward. - Dave Christoff, Chief Revenue Officer
The mud run is an event that the whole family can participate in! The race offers a variety of different levels of mud, obstacles and physical challenges. The beginner level, "Mud – The Crusher", is a 5k with 20+ obstacles perfect for any and all fitness levels. The intermediate level, "Sweat - The Crusher 2", is a 10k with 30+ obstacles and will challenge any fitness enthusiast. The expert level, "Tears – The Colossal Crusher", is only for the professionals. If you have to ask about The Colossal Crusher, then you are not ready for it. There are Parent/Child Teams available for both the beginner and intermediate levels! The event also includes a Crusher Kids 1 mile run! This race allows for children 7 – 13 to make the run on their own, without a parent. Plus, if you don't want to run the race, we allow spectators to come join us for free! There will be seating available to watch the runners, food, music, and a mud pit for those who want to just play in the mud!
In addition to participant in the mud run, volunteer and sponsorship opportunities are available for individuals, families, or businesses that are wanting to become involved in the event. For all event details, visit crusherrace.com.
About The BackStoppers, Inc.
The BackStoppers organization provides needed financial assistance and support to the spouses and dependent children of all police officers, firefighters and volunteer firefighters, and publicly-funded paramedics and EMTs in our coverage area who have lost their lives or suffered life-altering injuries while performing their duty. Visit backstoppers.org for more information.
About Responder Rescue
The Responder Rescue Organization provides assistance; emotional, tangible or monetary, to any area first responders, who have been injured, become ill or suffered a traumatic situation after all other resources have been exhausted. Visit responderrescue.org for more information.
About Woodard Cleaning and Restoration
Woodard Cleaning & Restoration helps people get back to their lives by providing residential and commercial customers in the St. Louis, MO metro area with carpet and hard surface cleaning, rug cleaning & repair, and emergency restoration and construction services following water, fire, and storm damage.