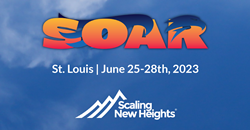 "I am thrilled by this year's keynote speaker line up for the Scaling New Heights main stage," says Joe Woodard, conference host. "Our SOAR theme provides each speaker with an powerful context for the inspiration they will bring to this year's event!"
ATLANTA (PRWEB) May 25, 2023
Scaling New Heights® conference, which will be held June 25– 28, 2023, will feature some of the most influential and dynamic voices in accounting, bookkeeping, and business.
"I am thrilled by this year's keynote speaker line up for the Scaling New Heights main stage," says Joe Woodard, conference host. "Our SOAR theme provides each speaker with an powerful context for the inspiration they will bring to this year's event!"
Keynote speakers at Scaling New Heights 2023 include:

Amelia R. Earhart – passionate aviatrix that holds the record for being the youngest woman to fly around the world in a single-engine aircraft. She is also a television and radio reporter, President of the Fly with Amelia Foundation which grants flight-training scholarships to young women. Her perspectives on courage and determination will add a unique perspective to the our conference.
Heather J. Crider and Mark Schulman – In their dynamic session, "Hacking the Rockstar Brain," renowned drummer for P!NK, Mark Schulman, and High-Performance NeuroCoach, Heather J. Crider, combine the energy of rock and roll with the power of neuroscience to help attendees "soar" in their professional pursuits. This session aims to boost connection, engagement, and performance, empowering participants to tap into their inner rockstar and ascend to new heights in their careers. With Mark's experience in the high-stakes music industry and Heather's expertise in neurocoaching, attendees will leave equipped with actionable tools and strategies to elevate their professional performance and teamwork.
Daryl Davis - An extraordinary storyteller who inspires and empowers audiences with tools they can use to make better workplaces, communities, and relations with family and friends. Daryl's work is chronicled in his book Klan-Destine Relationships and the documentary Accidental Courtesy. Daryl's TEDx talk has over 12 million views.
Joe Woodard - an expert nationally recognized speaker, writer, and coach who has trained over 125k business professionals. He has been recognized by Accounting Today for the past 10 years as one of the Top 100 most influential people in the U.S. for the accounting profession.
Mike Michalowicz - Creator of Profit First and Clockwork. Author, former columnist for The Wall Street Journal and business makeover specialist on MSNBC. Simon Sinek deemed Mike Michalowicz "…the top contender for the patron saint of entrepreneurs."
Guylaine Saint Juste - speaker, writer, provocateur, change-maker, innovator, president of the National Association of Black Accountants. As a change-maker and innovator, Guylaine inspires accountants to soar beyond traditional roles and become catalysts for change in their organizations.
Heather Satterley – Director of Media & Education at Woodard, Co-Host of The Woodard Report Podcast & The Appy Hour with Liz & Heather. Heather was named a categorical top 10 ProAdvisor in 2017 and 2019 and was listed as one of the top influential people in accounting by Accounting Today in 2019.
Ron Baker - Bestselling author, radio talk-show host, and world-renowned speaker. Ron's groundbreaking book on value pricing has transformed the way firms service and bill their clients, causing a paradigm shift in the industry. His insights at the conference will inspire attendees to "soar" by implementing innovative, value-based strategies that elevate their client relationships and business success.
Dawn Brolin - The Designated Motivator for Accounting Professionals and the CEO of Powerful Accounting, Inc. For more than two decades, Dawn has been a well-known and respected educator and motivator for her clients, other accounting professionals and technology solution providers. Dawn's motivational approach will empower attendees to soar in their professions, providing inspiration and strategies for growth and success in accounting.
More information about keynote presenters and additional main stage presenters can be found at Scaling New Heights Speakers.
Scaling New Heights® 2023 will take place June 25– 28, 2023 at the America's Center in St. Louis. The theme of the conference is "Soar." You can learn more and register for Scaling New Heights conference at ScalingNewHeights.com. 
About the Annual Scaling New Heights® Conference
Scaling New Heights launched in 2009 and has grown over the years into one of the world's largest and highest-rated accounting technology conferences and expositions. The training at Scaling New Heights equips bookkeepers, accountants, tax preparers, CPAs, and other small business advisors with the essential tools needed to generate extreme efficiencies through automation, standardization, and production strategies that maximize team performance. The 2023 conference will take place June 25-28, 2023, at the America's Center in St. Louis, MO. Learn more at ScalingNewHeights.com.
About Woodard™
Woodard's vision is to transform business through business advisors. The company provides education, coaching, resources, and professional communities to business advisors and is the host of programs like the annual Scaling New Heights® leading accounting technology conference, Woodard Membership Program, and media branch The Woodard Report. Learn more at woodard.com