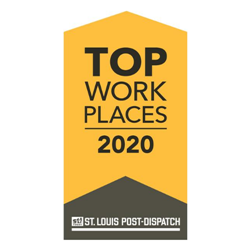 "We want to ensure that we provide a fun environment, vibrant culture, and a solid foundation for our employees." - Dave Christoff, Chief Revenue Officer
ST. LOUIS (PRWEB) August 10, 2020
We are thrilled to announce that Woodard has been named a Top Workplace in the St. Louis region for 2020, as presented by the St. Louis Post-Dispatch!
How Top Workplaces are Identified
Woodard has been awarded a Top Workplace 2020 by The Post-Dispatch. The list is based solely on employee feedback gathered through a third-party survey administered by research partner Energage, LLC, a leading provider of technology-based employee engagement tools. The anonymous survey measures several aspects of workplace culture, including alignment, execution, and connection, just to name a few.
Above all, "Top Workplaces is more than just recognition," said Doug Claffey, CEO of Energage. "Our research shows organizations that earn the award attract better talent, experience lower turnover, and are better equipped to deliver bottom-line results. Their leaders prioritize and carefully craft a healthy workplace culture that supports employee engagement." "Becoming a Top Workplace isn't just something organizations can buy." Claffey said. "It's an achievement organizations have worked for and a distinction that gives them a competitive advantage. It's a big deal."
How Woodard Ranked
Out of 63 companies that participated in the Top Workplaces survey this year, The St. Louis Post Dispatch identified the top 50 that had high enough scores to be named Top Workplaces, and Woodard is one of them! In the midsize category, Woodard ranked as #36.
"We are honored to be named a Top Workplace! As Woodard continues to grow we want to make sure that our employees are our focus. We want to ensure that we provide a fun environment, vibrant culture, and a solid foundation for our employees." - Dave Christoff, Chief Revenue Officer
About Woodard Cleaning & Restoration
Woodard Cleaning & Restoration was founded in 1946 by Earl and Nancy Woodard. Today, the company is run by 3rd generation, Justin Woodard. Located in St. Louis, Missouri, Woodard services the greater metro area (Illinois, St. Charles County, Jefferson County, St. Louis County, and many more). Woodard is proud to serve as the preferred provider for cleaning & restoration services. In addition, our cleaning services include carpet, hard surface, furniture, and rug cleaning for both residential and commercial properties. We also provide water, fire, board-up, storm and smoke restoration services for residential and commercial clients. For information or questions, submit a form online or call us at 314-227-3932.