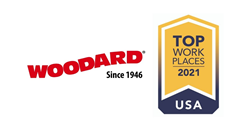 "The Top Workplaces USA award feels like recognition that we are progressing along the right path and our people are encouraging us to keep on going and doing what we are doing!"
ST. LOUIS (PRWEB) February 09, 2021
Woodard Cleaning & Restoration is thrilled to announce it has earned the 2021 Top Workplaces USA award, issued by Energage, a purpose-driven organization that develops solutions to build and brand Top Workplaces. This is the inaugural year for Top Workplaces USA, built on the program's 14-year history surveying more than 20 million employees across 54 markets for the regional Top Workplaces awards.
The Top Workplaces USA award recognizes companies where employees feel engaged, appreciated, and fulfilled. "I am extraordinarily grateful for this recognition. It feels like the people of Woodard all came together and gave me a hug! The work to create an environment where people feel safe enough to bring their whole selves to work, feel cared for by their managers and teammates, are encouraged and have room to grow, takes lots of consistent effort over a long period of time," said Justin Woodard, CEO & President of Woodard Cleaning & Restoration. "Normal stress and the uncertainty of running a business often get in the way of being able to determine if we are having the impact that we want. The Top Workplaces USA award feels like recognition that we are progressing along the right path and our people are encouraging us to keep on going and doing what we are doing!"
Top Workplaces USA offers national recognition for large organizations. Several thousand organizations from across the country were invited, and more than 1,100 participated in the Top Workplaces USA survey. Winners of the Top Workplaces USA list are chosen based solely on employee feedback gathered through an employee engagement survey, issued by Energage. Results are calculated by comparing the survey's research-based statements, including 15 Culture Drivers that are proven to predict high performance against industry benchmarks.
5 years ago, Woodard articulated and formalized The Woodard Way, which describes the Cultural Identity of Woodard. The Woodard Way is what sets the people and the organization apart from others. Being recognized as a Top Workplace illustrates just how successful Woodard has been in bringing its Cultural Identity to life throughout the organization.
"I am witnessing incredible growth in people throughout the company. As individual growth accelerates, I see us having an even bigger impact on the customers we can help, the communities we serve and the progress we can make with and for the industries we participate in," said Woodard. "You will see the people of Woodard leading groups in all sorts of areas, which will increase the number of customers we serve and will get us closer and closer to our big goal of helping one million people get back to their lives."
Woodard was also recognized as a Top Workplace for Top Leaders in 2021. This award recognizes the leaders at Woodard. Its employees have confidence in the senior leaders of the organization.
ABOUT WOODARD
Woodard Cleaning & Restoration was founded in 1946 by Earl and Nancy Woodard. Located in St. Louis, Missouri, Woodard services the greater metro area (Illinois, St. Charles County, Jefferson County, St. Louis County, and many more). Woodard is proud to serve as the preferred provider for cleaning & restoration services. Our cleaning services include carpet, hard surface, furniture, and rug cleaning for both residential and commercial properties. We also provide water, fire, board-up, storm and smoke restoration services for residential and commercial clients. For more information, visit woodard247.com
ABOUT ENERGAGE
Energage is a purpose-driven company that helps organizations turn employee feedback into useful business intelligence and credible employer recognition through Top Workplaces. Built on 14 years of culture research and the results from 22 million employees surveyed across more than 66,000 organizations, Energage delivers the most accurate competitive benchmark available. With access to a unique combination of patented analytic tools and expert guidance, Energage customers lead the competition with an engaged workforce and an opportunity to gain recognition for their people-first approach to culture. For more information or to nominate your organization, visit energage.com or topworkplaces.com.