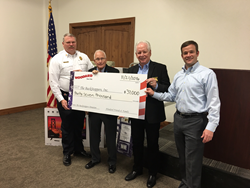 We're thrilled to have gotten this much community support around our 2nd annual raffle fundraiser. The BackStoppers is an incredible organization and this is the least we can do to thank them for what they do. - Justin Woodard, President
St. Louis, MO (PRWEB) November 22, 2016
Woodard Cleaning & Restoration just wrapped up its 2nd annual raffle fundraiser in support of The BackStoppers, Inc. Last year, the organization raised just over $29,000 for The BackStoppers. This year, Woodard increased its fundraising goal and was able to raise an incredible $37,000.00 through the support of its staff, first responders, local vendors, and the community.
This year's raffle was made possible through generous sponsorships provided by Home Is Where The Art Is, Art and Frame Restoration.com, Central Station Marketing, Universal Creative Concepts, Summit Marketing, GVL Plumbing, CRDN of Greater St. Louis, CliftonLarsonAllen, E.J. Welch, Beck Disposal, Peerless Cleaners, Home Depot, March & McLennan Agency, Enterprise Fleet, and Jon-Don.
In conjunction with this annual raffle, Woodard also sponsors the annual Budweiser Guns 'N Hoses St. Louis event at a high level.
Woodard's mission statement is "Helping people get back to their lives," and it is vastly important to the organization to support The BackStoppers and Guns 'N Hoses as a way to thank local first responders for what they do every day for our community.
About The BackStoppers, Inc.
The BackStoppers organization provides needed financial assistance and support to the spouses and dependent children of all police officers, firefighters and volunteer firefighters, and publicly-funded paramedics and EMTs in our coverage area who have lost their lives or suffered life-altering injuries while performing their duty. Visit http://www.BackStoppers.org for more information.
About Woodard Cleaning and Restoration
Woodard Cleaning & Restoration helps people get back to their lives by providing residential and commercial customers in the St. Louis, MO metro area with carpet and hard surface cleaning, rug cleaning & repair, and emergency restoration and construction services following water, fire, and storm damage.