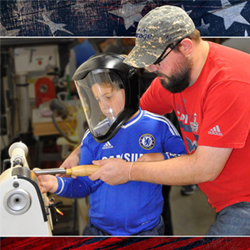 "There is a core group of folks that are here every year and that we can always count on to give and receive nothing in return but the joy of giving."
PARKERSBURG, W. VA. (PRWEB) January 17, 2020
Volunteers of all ages and skill levels handcrafted 15,385 unique wood pens in 2019 for the Woodcraft Turn for Troops program that sends the pens to military personnel on active duty or recovering from injuries. The total of pens turned since this program began 16 years ago is 190,609.
"Once again, dedicated volunteers have partnered with Woodcraft and its retail stores to provide unique thank-you gifts for the men and women who are defending our nation," Woodcraft President and CEO Jack Bigger said. "On behalf of the corporate staff, I thank all the volunteers and Woodcraft personnel who made Turn for Troops successful for another year."
The official Turn for Troops National Turn-a-Thon is scheduled each year on the weekend of Veterans Day at Woodcraft retail stores across the nation. In addition, woodturning clubs and individuals turn pens all year long.
Some of the pens turned this year went to the crew and officers of the US Coast Guard Cutter Winslow Griesser that is stationed at San Juan, Puerto Rico. The Sentinel-class vessel is named for the great-great grandfather of Edward Sontag, owner of two Woodcraft stores in Virginia – Richmond and Norfolk. Winslow Griesser received a Gold Lifesaving Medal for his heroic efforts in a rescue while serving at the Buffalo Station in November 1900. Cutters in this class are named for Coast Guard heroes from the past.
"It would mean a lot to me if we could send some of our pens to the crew and officers as part of the Turn for Troops effort," Sontag wrote in his pen request. "I have been blessed to have quite a few of my family members serve in the military. Mostly in the Coast Guard but also the Marines on my wife's side. The whole family went to the commissioning in Puerto Rico."
Stores Set Records
The Woodworkers Club/Woodcraft of Rockville, Maryland, set a record among stores by doubling its pen production from 902 in 2018 to 1,842 in 2019, thanks in a large part to the 1,250 pens turned by the Baltimore Area Turners club. This increase moved the store from number seven in 2018 to number three in 2019 in total number of pens turned by stores during one year. Likewise, it moved Rockville from 16th to ninth in overall contributions since the program began.
"We push hard for this event every year," Chris Johnstone, one of the four store owners, said. "My dad, who died in 1997, was a veteran of World War ll, Korea and Vietnam. I have made it my mission to see this through every year in his memory. There is a core group of folks that are here every year and that we can always count on to give and receive nothing in return but the joy of giving."
Two other stores also set records this year by passing the 20,000 mark in pens contributed over the past 16 years – Woodcraft of Tucson, Arizona, 21,232, and Woodcraft of Nashville, Tennessee, 20,218. They are the top two stores in overall totals. For 2019, Tucson kept its number two spot in yearly totals with 1,924. Nashville, with 1,297, dropped from number three to number five in 2019.
Woodcraft of Grand Rapids, Michigan, maintained its number one spot in 2019, with 2,222 pens, and moved from fourth to third place in overall totals with 17,904. Woodcraft of Boise, Idaho, remained in the top four stores in fourth place for both 2019 (1,389) and overall (17,543). The only other store to contribute 1,000+ pens in 2019 was Woodcraft of Milwaukee, Wisconsin, with 1,065. Woodcraft of San Carlos, California, with a 10,503 overall pen total, is the only other store in the 10,000+ overall category.
Other Turners
Veteran Neil J. Hadden of Fredonia, New York, who has been contributing pens for over 10 years, made 150 pens, which brought his overall total to 1,134. Turners from The Villages, a retirement community in Florida, also joined the 1,000+ group this year after just two years. The 685 they turned in 2019 brought their total to 1,455.
Retired Navy Veteran Daniel Banz of Tonganoxie, Kansas, joined volunteer turners this year in making 155 pens. He has been making pens to give away for over 20 years.
After pens arrive the Woodcraft corporate headquarters, Woodcraft personnel check with their military contacts about where to send the new batch of pens. Sometimes stores will suggest recipients, and sometimes military personnel will reach out to Woodcraft after reading publicity about the annual event.
For more information about Woodcraft, please contact the Woodcraft store nearest you, visit Woodcraft.com or call (800) 535-4482. Click here to learn more about Woodcraft franchise opportunities or email woodcraftfranchise@woodcraft.com.