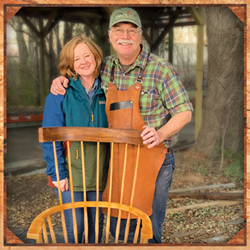 "Woodcraft congratulates Scott and Suzy Phillips as they begin the 30th season of 'The American Workshop.'"
PARKERSBURG, W. VA. (PRWEB) January 11, 2023
"The American Woodshop" Co-hosts Scott and Suzy Phillips began their 30th season with PBS on Monday, January 9, with the first of 13 new episodes based on the theme, "The Best Of!" Check local PBS TV stations for airtimes or watch on Create® TV, YouTube PBS TV, or 24/7 at wbgu.org/americanwoodshop.
"The American Woodshop" is produced by WGBU TV, Bowling Green, Ohio, and sponsored by Woodcraft Supply, "Woodcraft Magazine," Rikon Power Tools, PS Wood Machines, and FurnitureBank of Central Ohio.
"Woodcraft congratulates Scott and Suzy Phillips as they begin the 30th season of 'The American Woodshop', a popular how-to series that offers valuable woodworking instruction and inspiration to viewers of 363+ PBS channels and online 24/7," President and CEO Jack Bigger said.
A veteran woodworker who started woodworking in his father's shop in 1966, Scott has learned the truth of this statement, which he shares frequently: "Make it your own with your own hands. Nothing can be more satisfying."
Scott and Suzy hope that viewers will discover the same satisfaction in the projects and techniques they have selected for Season 30.
The first 2023 episode features a Vintage 4 Glass Candy Cabinet like ones popular in the 1930s and often found at a corner store. The four-sided glass and red oak display case is easy to build with simple tools, according to Scott. Blended Danish oil creates an old-world look, while tapered red oak plugs add the perfect finishing touch.
Other Season 30 Projects, in the order they will air, include:
•Live Edge Windsor Inspired Bench – Insider tips on creating live edge benches help to make home crafting easy.
•Turning Kitchen Gifts – Hard maple circular cutting boards and turned pie servers and cheese planes are ideal gifts.
•"Woodcraft Magazine" Tool Organizer – a freestanding red oak tool tower that can easily be used in kitchens of any size as a utensils and baking keep.
•Scroll Saw Art and Sign Making – Suzy demonstrates scroll saw techniques as she scrolls a reverse image tiger, while Scott creates an eagle.
•Resin Cast Turned Lamp – Scott creates signature lamps using epoxy resin and turned parts, with Internal LED lights to add a glow.
•Art Glass Display Cabinet – A vintage piece of art glass is combined with a custom-made 35mm hinged hard maple cabinet in the Arts and Crafts style.
•Carved Garden Chairs – Playfully carved animal accents make these keyed chairs conversation pieces and welcome seats. The name reflects the design in which the seat and single back leg are one piece and fit into the chair's back like a key.
•Chippendale Highboy Carvings and Turnings – This period furniture design is inspired by Thomas Chippendale of the 1700s.
•Finishing for the Ages/Queen Anne Low Boy Finishing Techniques – This show is completely dedicated to demystifying the finishing process.
•The Go-To Windsor Corner Chair – This unconventional corner chair is the perfect way to make sitting in the corner fun.
•Easy Inlay Turned Boxes – New materials and new techniques of inlaying elevate turned boxes to new heights.
•Cantilevered Tables – Designed to defy gravity, the live edge walnut slab tops really look spectacular!
For more information about "The American Woodshop," visit wbgutv.org/americanwoodshop.
To learn more about Woodcraft, contact the store nearest you, visit woodcraft.com or call (800) 535-4482.