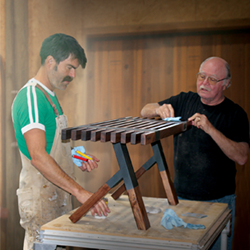 I had a wonderful time. I learned quite a bit by working with Jory and his crew.
PARKERSBURG, W. VA. (PRWEB) November 21, 2019
Not many beginning furnituremakers have the opportunity to experience 2-1/2 days of intense instruction – all expenses paid – with three professional craftsmen as guides for making a handsome custom bench to take home. Boulder City, Nevada, woodworker Bruce Kuveke can now claim that privilege, thanks to the Woodcraft, SawStop and Jory Brigham Design "Build It!" Sweepstakes that he won earlier this year.
Kuveke's friend, Forrest Kammerzell of Riverside, California, accompanied him, as part of the prize, to Jory Brigham Design Workshop in Paso Robles, California, on October 25-27. There they joined six other students to learn the skills required to make a custom bench from wood and metal. Expert instruction was provided by Brigham Design Workshop owner and custom furniture builder Jory Brigham, John Malecki, former NFL football player who now makes custom furniture in Pittsburgh, Pennsylvania, and Jason Radcliffe, metal fabricator who produces original products for his Cleveland, Ohio, business 44 STEEL.
"I had a wonderful time. I learned quite a bit by working with Jory and his crew," retired veteran and former postal worker Kuveke said, "Someday, with enough practice, I hope to be able to make things similar to my bench on my own."
Click here to learn more about Kuveke's furniturebuilding experience in the woodcraft blog, "Woodworking Adventures."
Andrew Bondi, Director of Multi-Channel Sales for Woodcraft, also took part in the class and was pleased with his experience. "I have always wanted to incorporate mixed media in one of my woodworking projects," he said, "and this particular bench offered just that! Learning how to TIG weld from industry professionals was an experience that will be with me for years to come."
Woodcraft partnered with Jory Brigham Design and SawStop to sponsor the "Build It!" with Jory and John Sweepstakes held March 1 through April 30.
In addition to the all-expense paid trip to California, the professional instruction and his custom bench, Kuveke's $10,000 grand prize included a SawStop Professional Saw.
For more information about Woodcraft, contact your local Woodcraft store, visit woodcraft.com or call (800) 535-4482. To learn about Woodcraft franchise opportunities, visit woodcraftfranchise.com or email woodcraftfranchise@woodcraft.com.