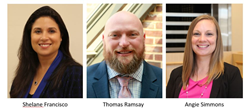 FREDERICK, Md. (PRWEB) November 07, 2019
Shelane Francisco joins Woodsboro Bank
Woodsboro Bank is pleased to announce Shelane Francisco has joined our team as Vice President, Branch Manager of the Downtown Branch located at 6 W. Patrick Street, Frederick, Maryland.
Shelane has over 20 years' experience in the financial industry with over half of that time in the Frederick market. Over the course of her career, she's worked in various roles including commercial banking management, sales, human resources, customer service and operations.
She has her Bachelor of Science degree in Business Management from University of Pheonix. Shelane graduated from Leadership Frederick in 2016.
Joining Woodsboro, Shelane will once again be working in the Frederick community where she has past involvement with the Downtown Frederick Partnership and Frederick County Chamber of Commerce.
Thomas Ramsay promoted to Vice President/Branch Channel Leader
Woodsboro Bank is pleased to announce the promotion of Thomas Ramsay to Branch Channel Leader. In this role, he will oversee the branch operations and leading his bank colleagues moving forward in the Bank's vision to be the best bank in central Maryland for colleagues, clients, community and shareholders.
Thomas Ramsay, Vice President, joined the Bank in 2018 as a Business Development Officer. He has 20 years of banking experience in retail and business banking. Thomas has extensive management, leadership and relationship management experience.
Thomas is a native of Frederick County and is graduated from Leadership Frederick in 2017. He is currently in his second year of Maryland Banking School. He is actively involved with the American Cancer Society's Relay for Life and is a football coach for Frederick High.
Angie Simmons promoted to Branch Manager
Woodsboro Bank is pleased to announce Angie Simmons was promoted to Branch Manager of the Bank's Rt. 40 Branch located at 1420 W. Patrick St., Frederick, Maryland. Angie joined the Bank in 2011 and prior to her promotion was a Relationship Banker at the Thurmont Branch.
Angie received her Associate Degree in Business Administration at Frederick Community College. Currently, she is enrolled at University of Maryland's Global Campus and in the Maryland Bankers Association's Emerging Leaders program.
She is the Volunteer & Impact Chair for the United Way's Emerging Leaders United. Angie is a co-chair of the Bank's United Way workplace campaign and a volunteer for United Way's VITA program.