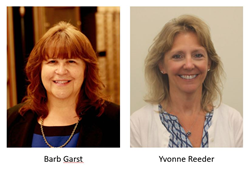 WOODSBORO, Md. (PRWEB) July 16, 2020
Woodsboro Bank congratulates Barb Garst on her upcoming retirement. Ms. Garst has been at the Bank for over 35 years. Through her time at the Bank, she has worked primarily in the branch channel and currently manages the Bank's Main Office in Woodsboro, Maryland. Ms. Garst will be officially retiring in December of this year.
"It's not often that someone can say they've worked somewhere for 35 years, but Barb has done just that and has shown a true commitment to her clients over those years. We are happy for Barb as she is starting to end this chapter of her life and start a new chapter that will allow her more time with her husband, children and grandchildren," said Steve Heine, President and CEO of Woodsboro.
Woodsboro Bank is pleased to announce that Yvonne Reeder has joined our team as Vice President and Branch Manager. Ms. Reeder will lead the Bank's Main Branch located at 5 N. Main Street in Woodsboro, Maryland.
Ms. Reeder has over 36 years in the financial services industry with focus in the branch network. Through her career she has built strong client relationships by offering an experience with banking and financing solutions to best serve her clients' needs. Most recently, Ms. Reeder was the Branch Manager of FCB Bank's branch location in Walkersville.
"It is with great excitement that we welcome Yvonne to our team. Her dedication to clients fits right in line with our culture, vision and mission," said Steve Heine, President and CEO of Woodsboro Bank.
Ms. Reeder lives in Woodsboro with her husband and is a proud mother of two adult children. She is a 2003 graduate of Maryland Banking School and a 2015 graduate of Leadership Frederick County.