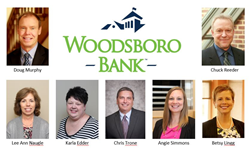 FREDERICK, Md. (PRWEB) April 20, 2020
Woodsbork Bank is delighted to announce several recent promotions:
Doug Murphy was promoted to Vice President, Commercial Credit Manager. Chuck Reeder was promoted to Vice President, Commercial Banker. Lee Ann Naugle was promoted to Assistant Vice President, Executive Administrator. Karla Edder was promoted to Bank Officer, Commercial Administrator. Chris Trone was promoted to Bank Officer, Commercial Credit Analyst. Angie Simmons was promoted to Bank Officer, Branch Manager. Betsy Lingg was promoted to Bank Officer, Branch Manager.
Doug has over 40 years of banking experience in commercial credit and business banking. He joined our team in 2010 and has been instrumental in various projects and initiatives. Doug holds a Bachelor of Science in Business Administration from the University of Maryland. He is an active member in the Frederick Community through his involvement with the Rotary Club of Carroll Creek, Community Foundation of Frederick County and St. John's Cemetery board.
Chuck joined the bank in 2003 and has over 30 years of banking experience including marketing, finance, student lending and commercial lending. He graduated from FCC and Shepherd College with a Bachelor of Science in Business Administration. Chuck's community impact includes Treasurer and Executive Board member with the Frederick County Building Industry Association, serving on the YMCA's Sporting Clays for Kids committee, a member of Evangelical Lutheran Church, a member of the Frederick Elks Lodge, treasurer of Frederick Industrial Softball League and longtime American Red Cross blood donor.
Lee Ann began her career with Woodsboro Bank 22 years ago and continues to be an invaluable member of our team. Much of Lee Ann's success can be attributed to her personal drive for excellence and strong commitment to the Bank. Lee Ann is a resident of PA and is very involved in her Church, Mt. Carmel UMC in Orrtanna, PA, where she serves on numerous committees. She has been a delegate representative to the 2018 and 2019 annual conferences.
Karla has over 20 years of banking experience joining the Bank in 1999. Her experience includes branch and commercial banking. In her current role, she provides invaluable support to our commercial bankers and business development officers. Karla has been active in the community through volunteering with Blessings in a Backpack, Thurmont Shred Days and Downtown's Bring a Broom.
Chris Trone has over 30 years in banking and finance with extensive experience in underwriting. Prior to joining Woodsboro Bank, he worked as a mortgage underwriter for Damascus Community Bank and at Wells Fargo for 13 years prior to that. His underwriting experience led him to join our team in 2018 as a Commercial Credit Analyst where he has excelled in his role and is truly embedded in the One Woodsboro culture. Chris loves being involved in the community and is always looking for volunteer opportunities, oftentimes spearheading many of our community activities. He is specifically involved in Friends of Cunningham Falls State Park and Gambrill State Park and The Potomac Appalachian Trail Club (PATC).
Angie has 9 years of banking experience joining the Bank in 2011 with her experience in the branch channel. She received her Associate Degree in Business Administration at Frederick Community College. Currently, she is enrolled at University of Maryland's Global Campus and in the Maryland Bankers Association's Emerging Leaders Program. She is the Volunteer & Impact Chair for the United Way's Emerging Leaders United. Angie is co-chair of the Bank's United Way workplace campaign and a volunteer for United Way's VITA program.
Betsy has nearly 30 years of banking experience. She joined the Bank in 2004 when the Bank acquired the Homewood branch from another financial institution. The dedication Betsy has to her Homewood clients is remarkable. She is an invaluable colleague stepping in to help however she can. Throughout her career, she has supported our community through volunteering with Meals on Wheels, coaching soccer, and volunteering at her kids' elementary, middle and high schools.