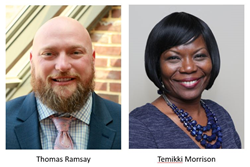 FREDERICK, Md. (PRWEB) August 14, 2020
Woodsboro Bank congratulates our colleagues, Thomas Ramsay and Temikki Morrison on their recent graduation from Maryland Banking School. This three-year program sponsored by the Maryland Bankers Association engages bankers in their professional growth as they expand in their financial knowledge and deeper understanding of the banking industry.
Thomas Ramsay, Vice President & Branch Channel Leader, joined Woodsboro Bank in 2018 and has over 20 years of banking experience in retail and business banking. Temikki Morrison, Guilford Office Branch Manager, has over 14 years of banking experience at Woodsboro Bank in the branch channel.
"At Woodsboro Bank, we encourage and support our colleagues in their professional growth and congratulate Thomas and Temikki on this major achievement," said Steve Heine, President & CEO.