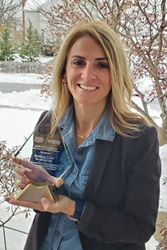 "Bethany lives the bank's vision, mission, and values, while being an advocate for her colleagues and the Bank's clients." - Steve Heine, President & CEO, Woodsboro Bank
FREDERICK, Md. (PRWEB) December 24, 2020
Woodsboro Bank is pleased to recognize and congratulate Bethany Lord, Vice President of Human Resources, on being awarded the 2020 Gold Award at the Maryland Bankers Association's Council of Professional Women in Banking and Finance 2020 Achievement Awards.
This coveted award celebrates a woman who exemplifies leadership excellence, innovative thinking, and commitment to community service who has achieved GOLD; Growth, Opportunity, Leadership and Development.
Bethany was nominated for this award by her colleagues at Woodsboro Bank who recognize her instrumental part in leading the Bank forward. She joined the Bank in 2017 and has over 13 years of human resource experience with 7 years in the financial industry.
Steve Heine, President & CEO, states, "When Bethany joined Woodsboro Bank, the bank was going through a leadership transition. She has contributed greatly to developing the bank's 'One Woodsboro' culture. Bethany lives the bank's vision, mission, and values, while being an advocate for her colleagues and the Bank's clients."
Bethany is a leader and advocate in the financial industry and our community. Bethany sits on the Board of the Council of Professional Women in Banking and Finance, SHRM Board, Past-President of the Spring Ridge Elementary PTA, and mentor in the Women-to-Women mentoring program.
"When I joined Woodsboro Bank, I knew I needed leaders on our team with a passion for community banking, drive, sharp intellect, and independent thinkers. I am thrilled Bethany joined the Bank and continues to be a catalyst for our culture, growth, and advancement," said Steve Heine, President & CEO of Woodsboro Bank.