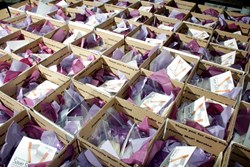 Subscribers receive exciting new fibers each month ranging from Yak and Merino to Hand Dyed Roving and beyond.
Spokane, WA (PRWEB) August 30, 2013
This month Paradise Fibers is formally launching their Spinning Fiber of the Month Club. For a reasonable monthly fee hobbyists can enjoy new and exciting spinning fibers shipped to their door at a discount. As an added bonus subscribers get an additional 10% discount on all spinning fibers in store and on the paradisefibers.com website.
The range of fibers that go into the monthly deliveries is amazing. We have everything from Cashmere, Pygora, Merino and Hand Dyed roving with nearly 1000 different spinning fibers total.
The club has been available over the past year exclusively to existing customers but this month marks the official launch. Paradise Fibers offers classes and has been selling wool roving, spinning wheels and weaving looms for over 15 years with a knowledgeable staff. The 26,000 square foot wool shop in Spokane, WA is located in a 1900's built historical bakery which has quickly become a tourist destination for Knitters, Spinners and Weavers.
Contact: Travis Romine
Travis(at)paradisefibers(dot)com
1-888-320-7746
http://www.paradisefibers.com