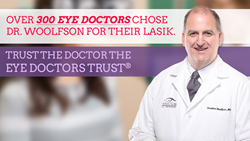 Dr. Woolfson stated, "I'm very proud of everything the team at Woolfson Eye Institute has been able to accomplish. Having many of my colleagues trust me to perform their LASIK surgery is very humbling and gratifying."
JOHNSON CITY, Tenn. (PRWEB) December 02, 2020
Jonathan Woolfson, MD, Founder and Medical Director of Woolfson Eye Institute, is excited to once again offer LASIK eye surgery to residents of Johnson City, TN.
Dr. Woolfson, renowned LASIK surgeon and industry pioneer, takes great pride in providing life changing outcomes for his patients. He and his team are now offering LASIK consultations and surgery at their Woolfson Eye Institute location on Boones Creek Rd. Patients interested in seeking vision correction surgery are advised to schedule appointments so that Dr. Woolfson and his team can determine surgical candidacy. If you want to explore whether you are eligible for LASIK, please call 423-283-8580 to schedule a free consultation, which will include determination of candidacy for LASIK or other vision correction surgery, as well as a patient education discussion.
About LASIK eye surgery and Jonathan Woolfson, MD
Millions of people consider LASIK eye surgery to correct vision problems. Dr. Jonathan Woolfson, a LASIK pioneer, and his team of surgeons have performed well over 100,000 LASIK procedures. In fact, over 300 eye doctors have entrusted Dr. Woolfson with their own LASIK surgery. Dr. Woolfson stated, "I'm very proud of everything the team at Woolfson Eye Institute has been able to accomplish. Having many of my colleagues trust me to perform their LASIK surgery is very humbling and gratifying."
Dr. Woolfson is a Board Certified Ophthalmic Surgeon with memberships in the American Academy of Ophthalmology, the American Society of Cataract and Refractive Surgery, the International Society of Refractive Surgery and the American Medical Association.
About Woolfson Eye Institute
Woolfson Eye Institute, headquartered in Atlanta, GA, is the Southeast's leading ophthalmology treatment provider for LASIK, oculoplastics, cataract surgery, retina, glaucoma and other eye diseases and treatments to significantly improve patients' vision and quality of life. WEI has state-of-the-art surgery centers in Georgia, North Carolina, and Tennessee along with a fully accredited Ambulatory Surgery Center in Atlanta (Permit #: 060-414). For additional information, visit https://www.woolfsoneye.com/.
Contact:
Woolfson Eye Institute--Johnson City
2913 Boones Creek Road, Suite 3
Johnson City, TN 37615
Office: 423-283-8580
https://www.woolfsoneye.com/johnson-city-tn/