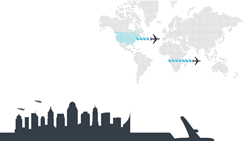 This is a huge project, and the fact that we have the capacity to manage our component speaks to the depth of the services we offer.
CINCINNATI (PRWEB) November 09, 2018
Woolpert has been contracted to provide planning, civil engineering and surveying for the landside and airside design of the Amazon CVG Air Cargo Hub, which will house flight operations for the world's largest online retailer. The firm is partnered with AECOM, who is designing the Hub's facility complex on a more than 500-acre greenfield site at the Cincinnati/Northern Kentucky International Airport (CVG).
The Amazon CVG Air Cargo Hub is projected to be developed in multiple phases, opening in the next few years. When finished, the Air Cargo Hub will include hundreds of acres of airfield pavement and numerous aircraft parking positions, millions of square feet of building with several platform levels, and multiple types of new infrastructure and support facilities, which represent a substantial investment in the region.
Greg Shuttleworth, an aviation engineering program director with Woolpert, said the firm's extensive experience at the airport site, in the region and in pertinent market sectors—including aviation design and geospatial services; large-scale site and civil engineering; transportation, roadway design and traffic studies; and stormwater management and subsurface utility engineering—made Woolpert a great fit for this project. The firm also has brought on Prime Engineering and Gresham Smith to assist with aircraft fueling and deicing systems, respectively.
"This is a huge project, and the fact that we have the capacity to manage our component speaks to the depth of the services we offer," Shuttleworth said. "It also underscores the excellent work of the CVG staff, as it accommodates a project that adds substantially to the footprint of the airport. The CVG staff has been outstanding to work with."
Woolpert Project Manager Greg Monnig lauded the impact of the project.
"We're looking forward to providing Amazon with a superior logistical Air Cargo Hub solution that not only supports the needs of its customers nationwide but is able to sustainably evolve and grow with the company as well," Monnig said.
About Woolpert
Woolpert is the fastest growing architecture, engineering and geospatial (AEG) firm in the country, delivering value to clients in all 50 states and around the world by strategically blending innovative design and engineering excellence with leading-edge technology and geospatial applications. With a dynamic research and development department, Woolpert works with inventive business partners such as Google and Esri; operates a fleet of planes, sensors and unmanned aircraft systems (UAS); and continually pushes industry boundaries by working with advanced water technologies, asset management, building information modeling (BIM) and sustainable design. The firm, which is among the ENR's Top 100 Design Firms, supports a mission to help its clients progress and become more progressive. For over 100 years and with 27 offices across the U.S., Woolpert serves federal, state and local governments; private and public companies and universities; energy and transportation departments; and the U.S. Armed Forces. For more information, visit woolpert.com or call 937-531-1258.