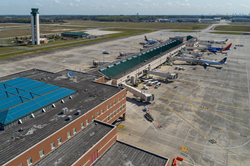 We are setting the precedent for flying UAS at airports and ensuring this valuable tool advances operations safely.
DAYTON, Ohio (PRWEB) May 12, 2021
Woolpert recently conducted nighttime unmanned aircraft system operations at McGhee Tyson Airport (TYS) in Knoxville, Tenn., under its Federal Aviation Administration Part 107 Waiver 107.29. Woolpert also has earned the first of its kind FAA Class C airspace authorization to operate UAS anywhere on an airfield for Savannah/Hilton Head International Airport (SAV) through the FAA Safety Risk Management process.
These clearances are the most recent received by Woolpert to deploy UAS safely and effectively to support and advance airport operations. Woolpert UAS Technology Manager and Team Leader Aaron Lawrence said this waiver and this authorization enable the firm to test strategies for providing perimeter surveillance at TYS and address wildlife management at SAV, respectively.
"Animal activity presents a threat to airport operations everywhere. Coyotes are always a problem, as are birds and deer, and as you move to different geographies you tend to see other things like gators," Lawrence said. "By being able to provide surveillance around the clock, we increase airport safety."
Woolpert has been working with SAV for multiple years on integrating UAS into airport operations. The firm recently underwent an FAA Safety Risk Management panel to receive the Class C authorization. Lawrence said that, to his knowledge, this is the first approval of its kind granted by the FAA.
"During the review, we shared our documented aviation and UAS procedures and experience and our history working with SAV, whose operations officials have been collaborating and supporting this process," Lawrence said. "We have logged more than 1,000 hours with UAS in controlled airspace at airports, mostly flown in B, C and D airspace. We are setting the precedent for flying UAS at airports and ensuring this valuable tool advances operations safely."
About Woolpert
Woolpert is the premier architecture, engineering, geospatial (AEG) and strategic consulting firm, with a vision to become one of the best companies in the world. We innovate within and across markets to effectively serve public, private and government clients worldwide. Woolpert is an ENR Top 150 Global Design Firm, recently earned its fifth-straight Great Place to Work certification and actively nurtures a culture of growth, inclusion, diversity and respect. Founded in 1911 in Dayton, Ohio, Woolpert has been America's fastest-growing AEG firm since 2015. The firm has over 1,100 employees and 42 offices in three countries. For more, visit woolpert.com.