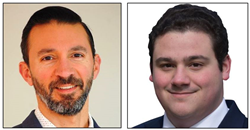 ODOT has always been keenly focused on transportation safety, and I have devoted much of my career to supporting the department and their forward-thinking initiatives.
CLEVELAND, Ohio (PRWEB) February 21, 2023
Woolpert has added Sam Bobko and Alejandro Chock to its rapidly expanding Ohio transportation team and its growing presence in Cleveland. Bobko and Chock are transportation planners and traffic engineers who specialize in traffic engineering, analysis and simulation, roadway and railway safety, multimodal design, pedestrian facilities, and conceptual design. The Ohio State University graduates have worked extensively with the Ohio Department of Transportation, supporting diverse and complex safety and engineering projects across the state.
Bobko, a professional engineer and professional traffic operations engineer, has prepared over 150 traffic engineering studies and designed more than 100 traffic signals. He has worked in the public sector and with private transportation engineering companies, supporting diverse ODOT projects from statewide geometric, safety, and feasibility studies to the traffic impact study for the Pro Football Hall of Fame. He was project manager for multiple ODOT safety study contracts and supported two statewide bicycle and pedestrian contracts that encouraged safe and active transportation.
Like Bobko, Chock is a professional engineer and a member of the American Society of Highway Engineers and the Institute of Transportation Engineers. Chock was an earlier adopter of TransModeler and has applied his simulation expertise on numerous diverse projects. He supported the ODOT/Ohio Rail Development Commission's statewide railroad preemption contract to evaluate highway-railroad grade crossings near signalized intersections, and he investigated crashes and congestion at the I-270/I-71 interchange to develop conceptual designs for ramp improvements. Also like Bobko, Chock has conducted multiple statewide transportation safety studies at high priority locations throughout the state.
Bobko said one of his foremost goals at Woolpert is to help reduce traffic-related pedestrian deaths, which are up across the nation.
"ODOT has always been keenly focused on transportation safety, and I have devoted much of my career to supporting the department and their forward-thinking initiatives," Bobko said. "Woolpert was founded in Ohio, is based in Ohio, and supports large and small transportation projects across Ohio. They also understand that even a small project is important because it provides an opportunity to build relationships and improve quality of life. I'm excited to join this outstanding team."
Woolpert has nearly 100 transportation staff in Ohio. In Cleveland, Bobko and Chock join Woolpert colleagues Jeff Pesler, Jill Geboy, and Claire Mercer. Pesler and Geboy are information technology and aviation consultants, respectively, and Mercer is a proposal coordinator. The Cleveland office will host an open house in April.
About Woolpert
Woolpert is the premier architecture, engineering, geospatial (AEG) and strategic consulting firm, with a vision to become one of the best companies in the world. We innovate within and across markets to effectively serve public, private, and government clients worldwide. Woolpert is a top 100 ENR Global Design firm, earned six straight Great Place to Work certifications, and actively nurtures a culture of growth, inclusion, diversity, and respect. Founded in 1911 in Dayton, Ohio, Woolpert has been America's fastest-growing AEG firm since 2015. Woolpert has over 2,000 employees and more than 60 offices on five continents. For more, visit woolpert.com.