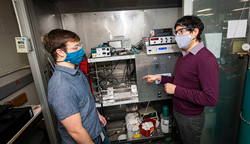 "We're looking to flip industries on their heads. We're talking about being able to better feed the world. The impact is transformative." -Andrew TeixeiraAssistant professor of chemical engineering at WPI
WORCESTER, Mass. (PRWEB) March 17, 2021
A chemical engineering professor at Worcester Polytechnic Institute (WPI) is applying innovative chemical engineering processes to develop tools that could aid farmers in rural areas and developing nations, establish improved water supply chains for municipalities, and spur improved drug development.
Andrew Teixeira, assistant professor of chemical engineering, has received four grants—including a prestigious National Science Foundation CAREER award—totaling more than $1.6 million over the past several months. He has received grants from three different agencies to study the issue: the National Science Foundation, the U.S. Department of Energy, and Mainstream Engineering Corporation. A common theme across the grants is the focus on chemical manufacturing to support on-demand water and agricultural efforts and domestic pharmaceutical drug manufacturing.
Teixeira's approach is part of a new wave of manufacturing that aims to create a distributed chemical and energy landscape that transitions from large, centralized refineries to small, on-demand systems that use geographically localized resources.
"I'm very excited to help define a new paradigm in chemical manufacturing by introducing periodic, dynamic operating conditions," said Teixeira. "There have traditionally been a limited number of tools to use when designing refineries, but now we're proposing an entirely new strategy that allows us to unlock pathways that were previously unachievable."
Teixeira's method centers on using microreaction engineering and continuous flow chemistry, a process that allows for more flexible management of the manufacturing process than traditional batch manufacturing of chemical products. Instead of requiring a constant pressure and temperature throughout the process, his dynamic systems use intermittent ultrafast pressure and temperature switching.
"Because it's continuous, you don't need to stop and clean," he said. "It's smaller and safer and on-demand."
Teixeira said he's looking forward to sparking a significant shift in how water, food, chemicals and pharmaceuticals are manufactured and accessed.
"We're looking to flip industries on their heads," he added. "We're talking about being able to better feed the world. The impact is transformative."
Teixeira's four grants are as follows:

During the past several years, the pharmaceutical industry has undergone a major shift from traditional batch manufacturing technology to modular flow technology, which offers greater efficiency, purity and safety. As a result, pharmaceutical chemists require updated training that can't be conducted in a live manufacturing facility. "It's next generation of workforce training," said Teixeira, who is partnering with the ACS Green Chemistry Institute on the project. This research will receive $174,000 over two years.
About Worcester Polytechnic Institute
WPI, a global leader in project-based learning, is a distinctive, top-tier technological university founded in 1865 on the principle that students learn most effectively by applying the theory learned in the classroom to the practice of solving real-world problems. Recognized by the National Academy of Engineering with the 2016 Bernard M. Gordon Prize for Innovation in Engineering and Technology Education, WPI's pioneering project-based curriculum engages undergraduates in solving important scientific, technological, and societal problems throughout their education and at more than 50 project centers around the world. WPI offers more than 70 bachelor's, master's, and doctoral degree programs across 17 academic departments in science, engineering, technology, business, the social sciences, and the humanities and arts. Its faculty and students pursue groundbreaking research to meet ongoing challenges in health and biotechnology; robotics and the internet of things; advanced materials and manufacturing; cyber, data, and security systems; learning science; and more. http://www.wpi.edu
Contact:
Andy Baron, Associate Director of Public Relations
Worcester Polytechnic Institute
Worcester, Massachusetts
508-831-5916; 978-235-3407 (cell), ajbaron@wpi.edu