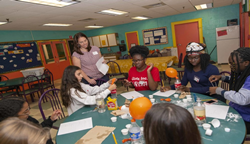 WORCESTER, Mass. (PRWEB) January 21, 2021
Three researchers from Worcester Polytechnic Institute (WPI) received a one-year, $75,000 grant from the National Science Foundation (NSF) to plan how to combat the STEM teacher shortage in high-need school districts. The grant is part of the NSF's Robert Noyce Teacher Scholarship Program, which provides funding to colleges and universities to recruit and prepare STEM majors to become K-12 teachers. WPI hopes to establish a Noyce Track 1 program, which focuses on supporting undergraduate STEM majors to become certified teachers through scholarships and early field experiences in the greater Worcester community.
The prevalent shortage of STEM teachers in K-12 schools is exacerbated in high-need districts that have also endured system racism and underfunding, said Kathy Chen, executive director of WPI's STEM Education Center and principal investigator on the grant. In particular, the Physics Teacher Education Coalition (PhysTEC) reported that, among all academic disciplines, U.S. school districts consistently rank physics as the area with the most significant shortage of teachers.
Through the grant, "Building the Capacity for Noyce Scholars to Address the Urban STEM Teacher Shortage in Massachusetts," Chen, Shari Weaver, director of the Teacher Preparation Program (TPP), and Doug Petkie, professor and department head of Physics, aim to better support students who plan to become teachers of STEM subjects and diversify the future pool of potential Noyce Scholars at the university. They plan to build strong partnerships with local, high-need schools that will supervise, mentor, and potentially hire Noyce Scholars who complete the program.
"Students do come to WPI for STEM and teaching. This grant will allow us to look for areas of improvement in our TPP, where we can grow and develop in more in-depth ways," said Weaver, who is a former high school biology and physics teacher. "It will support future STEM teachers in their growth as professionals and have a great impact on the education community."
The grant will examine how undergraduates currently prepare to become STEM teachers, and will identify any unmet needs and barriers that may prevent them from becoming teachers in the K-12 classrooms after graduation. Included in that preparation is training TPP students with culturally responsive teaching/pedagogy and equity mindfulness. The grant will also pinpoint key requirements that high-need K-12 schools look for when hiring teacher candidates. Chen, Weaver, and Petkie will collect data via surveys, interviews, and focus groups of schools and WPI students in the TPP who are student-teaching, or preparing to student-teach, in high-need schools.
"We want to understand public schools' hiring practices and what they're looking for in teacher candidates," said Chen. "We're also looking for ways to help our student teachers make the smoothest transition into the classroom. This project is aligned with our mission to improve and transform STEM education in K-12 schools, and encourage WPI students to be a part of that improvement."
For more than 20 years, WPI's TPP has encouraged interested first- and second-year students to consider teaching as a career. The program begins with pre-practicum in which students work with local organizations such as Girls Inc. and the YMCA to develop lessons that sometimes take shape as a fun community activity, like "Spooky Science," which was held as a Massachusetts STEM Week event. As these students move into their junior and senior years, they train with a mentor teacher at a local school and eventually do a "classroom takeover," where they teach STEM classes on their own. (Many students complete their student-teaching as their Interactive Qualifying Project, a hands-on team project.)
"WPI's TPP has given me the unique opportunity to work towards a Massachusetts's teaching license in Secondary Math while I earn my degree," said Juliette Spitaels '22, who is majoring in mathematical sciences. "It has allowed me to pursue both my passions, instead of choosing only one; each has informed the other to enrich my college experience and prepare me for a career in education."
WPI student-teachers like Spitaels have been placed in numerous school districts, including Worcester, Leominster, Auburn, Millbury, and others. For the envisioned Noyce Track 1, Weaver said WPI is partnering with more high-need, urban districts, including Worcester and Leominster.
"This will help prepare WPI student-teachers for urban spaces, which may be different from where they grew up and went to school," she said. "We're focusing on urban settings because that's where WPI is, and where so many great community and school-enrichment organizations are."
"The goal is to help students find the right path to becoming a STEM professional and remove any barriers from that path," Weaver said. "Participating in the Noyce Program will also help us elevate the status of teaching STEM and reframe how people feel about the teaching profession in a positive way."
About Worcester Polytechnic Institute
WPI, the global leader in project-based learning, is a distinctive, top-tier technological university founded in 1865 on the principle that students learn most effectively by applying the theory learned in the classroom to the practice of solving real-world problems. Recognized by the National Academy of Engineering with the 2016 Bernard M. Gordon Prize for Innovation in Engineering and Technology Education, WPI's pioneering project-based curriculum engages undergraduates in solving important scientific, technological, and societal problems throughout their education and at more than 50 project centers around the world. WPI offers more than 50 bachelor's, master's, and doctoral degree programs across 14 academic departments in science, engineering, technology, business, the social sciences, and the humanities and arts. Its faculty and students pursue groundbreaking research to meet ongoing challenges in health and biotechnology; robotics and the internet of things; advanced materials and manufacturing; cyber, data, and security systems; learning science; and more. http://www.wpi.edu
Contact:
Jessica Messier
Public Relations Specialist
Worcester Polytechnic Institute
jmmessier@wpi.edu
# # #