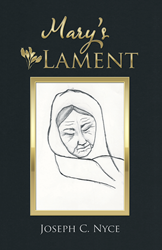 HOPEWELL, N.J. (PRWEB) September 10, 2018
With over 40 years of experience that includes seminary study and professional positions at several churches, Joseph C. Nyce was inspired to write a book after many Bible study discussions. "Mary's Lament" is a work of historical fiction about the experiences and struggles of Jesus' mother, brother, and sister after the crucifixion and the violent days of early Christianity.
The book is an attempt to connect religious struggles of faith with those who lived through the birth of the Christian religion, and it provides a narrative journey to assist in honoring Jesus' command to walk with him through the kingdom of God's love. Nyce also explores through this narrative the tragic religious history of violence, presenting a fresh look at the violent beginnings of Christianity.
"With this book, I want to affirm the essence of Jesus' life and message—that faith is the humility to live in the presence of God's love—and to energize the churches of Jesus to focus on what living in the presence of God means," said Nyce.
"For those with an interest in Jesus' central message of love, self-sacrifice, and kindness above all else, Nyce's thought-provoking narrative of the early years of Christianity will provide a rich and rewarding experience," said Herman Tull, PhD (Visiting Associated Professor of Religious Studies, Lafayette College).
"Mary's Lament"
By Joseph C. Nyce
ISBN: 9781973626992 (softcover); 9781973626985 (hardcover); 9781973627005 (eBook)
Available at the WestBow Press Online Bookstore, Amazon and Barnes & Noble
About the author
Joseph C. Nyce grew up in a Christian home in Eastern Pennsylvania, and after earning his bachelor's degree in civil engineering from Lafayette College, he settled down in the family business manufacturing concrete and blocks. However, he felt God's call, uprooted his wife and two young children, and enrolled at the Princeton Theology Seminary, where he would go on to earn his Master of Divinity and PhD degrees. While there, Nyce established a general contracting business in the Princeton area. He also sang and conducted adult Bible studies for St. Luke's Methodist Church in Bryn Mawr, Pennsylvania, where touching and soul-searching discussions inspired him to write "Mary's Lament." To learn more, please visit http://www.maryslament.com.
General Inquiries:
LAVIDGE – Phoenix
Bryan Beach
480-306-6554
bbeach(at)lavidge(dot)com
Review Copies & Interview Requests:
LAVIDGE – Phoenix
Kiersten Woglom
480-998-2600 x 586
kwoglom(at)lavidge(dot)com