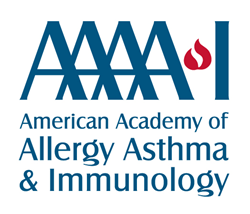 "Additional studies could help us determine if environmental interventions or medical treatment would help reduce the burden of this disease." - Olivier Vandenplas, MD
MILWAUKEE (PRWEB) February 13, 2020
Both work-related rhinitis (WRR) and non-work-related rhinitis (non-WRR) have significant negative impacts on health-related quality of life and work productivity, according to a new study in The Journal of Allergy and Clinical Immunology: In Practice, an official journal of the American Academy of Allergy, Asthma & Immunology (AAAAI), and those with WRR are likely to see more detrimental impacts.
For this cross-sectional survey, workers were randomly selected during their periodic occupational health visit in the French-speaking part of Belgium. Rhinitis-specific and generic questionnaires were used, including the Mini-Rhinitis QoL Questionnaire, the Medical Outcome Study Short Form-8, and the Work Productivity and Activity Impairment-General Health questionnaire. Participants were categorized into three groups: non-WRR (current nasal symptoms not related to work, 329 participants), WRR (current rhinitis with two or more nasal symptoms at work, 161 participants), and control (no nasal symptoms, 1,155 participants).
Following analysis, those with non-WRR were less likely to report moderate/severe rhinitis symptoms (48%) compared to subjects with WRR (70.8%). Subjects with WRR displayed higher results than those with non-WRR on the Mini-Rhinitis Quality of Life Questionnaire, which measures the impact of rhinitis symptoms across five domains, with higher scores indicating higher levels of symptom disruption.
When rhinitis severity was included in the multivariate model, moderate/severe rhinitis seemed to be a significant risk factor for worse rhinitis-specific quality of life. WRR and non-WRR were also both associated with higher levels of impairment in the Mental Component Summary and Physical Component Summary of the SF-8 questionnaire, which is used to assess health concepts.
Worktime missed and lower at-work productivity was more frequent in those with WRR compared to those with non-WRR and the control population. This indicates that work-related nasal symptoms have a greater impact on quality of life and work productivity compared to rhinitis that is unrelated to work. Subjects with WRR also reported visiting a medical professional more frequently due to rhinitis symptoms than subjects with non-WRR (45.1% and 33% respectively).
"Our findings tell us that we need to improve public and clinical awareness of how the environment of a workplace influences rhinitis symptoms, and the impact those symptoms have not only on workplace productivity but overall quality of life," said first author Olivier Vandenplas, MD. "Additional studies could help us determine if environmental interventions or medical treatment would help reduce the burden of this disease."
You can learn more about rhinitis on the American Academy of Allergy, Asthma & Immunology website, aaaai.org.
The American Academy of Allergy, Asthma & Immunology (AAAAI) represents allergists, asthma specialists, clinical immunologists, allied health professionals and others with a special interest in the research and treatment of allergic and immunologic diseases. Established in 1943, the AAAAI has nearly 7,000 members in the United States, Canada and 72 other countries. The AAAAI's Find an Allergist/Immunologist service is a trusted resource to help you find a specialist close to home.