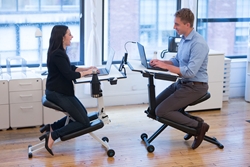 "Our single mission is to help people feel better wherever they work. Our "comfort first" design delivers on that promise. We hope many more will benefit from this unique and pain-free desk."
SAN MARCOS, Calif. (PRWEB) October 03, 2018
Back pain accounts for more than 264 million lost work days in one year—that's two work days for every full-time worker in the country (American Chiropractic Association). But back pain doesn't have to be a problem. . . Finally, professionals, students and creatives of all kinds can work in comfort with The Edge Desk 2.0. The Edge Desk is ergonomically designed—the user is put at a kneeling position which put them in a neutral position, easing the strain on the neck and back.
Originally launched with a hugely successful Kickstarter campaign, in which 1,500 desks were sold in 41 countries over 42 days generating nearly $500,000, the all-in-one kneeling desk chair and easel continues to grow fans worldwide. The creators of The Edge have taken the comments of those fans and turned out an even better product. The Edge Desk 2.0 has a new emphasis towards artists and ensures creators of all types have their most valued accessory tools at their fingertips.
The Edge Desk's founder, Marc Rosenberg, states, "Our single mission is to help people feel better wherever they work. Our "comfort first" design delivers on that promise. We are going back on Kickstarter to share the advances we've made because of the input of backers of our first campaign. A better desktop surface for artists, the ability to set the desk to level from any setting and clip-on accessories for access ease are all things that came from those learnings. We hope many more will benefit from this unique and pain-free desk."
Dr. Levi Harrison, a top Orthopedic Surgeon, endorses the unique design and says, "The Edge Desk 2.0 is a versatile work space which allows flexible, postural balance along with ease of use. I highly recommend The Edge Desk 2.0 which may assist in preventing common overuse problems like back pain, wrist strain and elbow tendonitis due to prolonged sitting at a static, unbalanced work station. I endorse this masterfully constructed, ergonomically-aware, evolved desk system."
Here's More About Why the Edge Desk 2.0 is a Must-Have for Desk Users:

Delivered fully assembled in the box, sets up in seconds
Smooth surface makes it great for artists
Transforms from desk to easel simply
Accessories (sold separately) to have all of your most popular tools at your fingertips: including phone holder, ledge for brushes chalks, led light, water bottle holder, art or jewelry supply containers
Desk can be completely level (good for computer users)
Choose from black or white frame
When done just fold it up and store under a couch or bed
To be one of the first to have the Edge Desk 2.0 visit https://www.kickstarter.com/projects/78859337/130760526?ref=570412&token=e693df0d
Early Bird backers will be using their new desk by the holidays!
If you'd like to set up an interview with the makers of this innovative desk, please contact alex(at)teamchicexecs(dot)com.