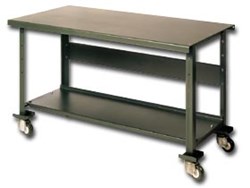 The deluxe heavy duty mobile work bench is the perfect combination of being mobile and heavy duty
Bismarck, ND (PRWEB) August 31, 2013
It is time for A Plus Warehouse to announce its product of the day. The company will present the reader with three hints. Hint 1: This product is a workbench. Hint 2: This product is mobile. Hint 3:This product is heavy duty. This product is he deluxe heavy duty mobile work bench. The company wants to emphasize his product. It is a great item that deserves more attention. According to Ed Stairman, president of A Plus Warehouse, " The deluxe heavy duty mobile work bench is the perfect combination of being mobile and heavy duty."
This industrial workbench falls under the mobile workbench category. When ordering a workbench, having it be mobile is extremely important for many customers. A Plus Warehouse takes pride in fulfilling the needs of all their customers. This is why the company has the mobile workbench line. Products in this line include the economy medium duty mobile work bench, mobile cabinet workbenches, mobile workbenches, and todays product of the day, deluxe heavy duty mobile work bench.
What customers love about today's product of the day is that it is in stock for immediate shipment. It is too often that customers need to wait for item. A Plus Warehouse is aware that when a customer wants an item, they want it as soon as possible. Fast service is good service. Even though A Plus Warehouse has quick shipping times, quality is not sacrificed. The shipment of the products is given the proper care. There is nothing worse than seeing that an item is damaged. If A Plus Warehouse were able to, they would give customers a product a second after they order it! Unfortunately, A Plus Warehouse cannot do that, so customers just need to settle for a few days! Order an A Plus Warehouse product today.
It is time to discuss the deluxe heavy duty mobile work bench. This heavy duty workbench measures 60 X 29 X 35 with a massive 1,400 pound capacity. If a customer needs a heavy duty mobile work bench, then there is no doubt that this is their product. This item is depicted to the right. Customers should order one today.
A Plus Warehouse is the operator of http://www.apluswhs.com and distributes materials handling and storage equipment nationwide and throughout Canada. The sales staff at A Plus Warehouse is available at 800-209-8798. A Plus Warehouse has been in constant operation since 1996.