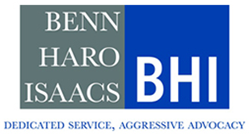 "Your employer and their insurance company have attorneys working for them, and so should you," says partner, David Benn. "We are proud to add Tampa to our geographic coverage, and are excited to assist many more Florida injured workers."
TAMPA, Fla. (PRWEB) April 15, 2020
With numerous offices across the state of Florida, Benn, Haro & Isaacs, PLLC- The Workers' Compensation Firm is now serving Tampa. The firm offers free consultations to injured workers to determine how their rights can be protected after a work accident.
The firm represents clients seeking compensation with regard to work accidents. Benn, Haro & Isaacs, PLLC's lawyers work on a contingency basis, which means clients pay nothing unless the attorneys secure a settlement.
Benn, Haro & Isaacs, PLLC handles all work accidents, from the slip and fall, to death cases. The firm even represents clients with regard to chronic issues caused by overexertion or repetitive motion.
"Your employer and their insurance company have attorneys working for them, and so should you," says partner, David Benn. "We are proud to add Tampa to our geographic coverage, and are excited to assist many more Florida injured workers."
Each of the firm's three founders is proficient in Spanish, and partner, William Haro, is fluent. All partners are board members of the Workers' Compensation Section of the Broward County Bar Association, as well as members of Florida Worker's Advocate, and organization that advocates for the fair treatment of Florida's workers. Partner, Stacey Isaacs, is Vice Chairwoman of the 17th Judicial Grievance Committee, which reviews bar complaints made against other attorneys.
Those in Tampa, FL who have been injured at work can receive a free consultation by calling 954-716-8287. Learn more about the firm at https://accidentlawyerfl.com/ where you can find helpful workers' compensation tips, industry trends, and attorney information. Also follow them on Facebook, Instagram, and Twitter.
About Benn, Haro & Isaacs, PLLC - The Workers' Compensation Firm
With over 45 years of combined legal experience, the Florida attorneys and staff at Benn, Haro & Isaacs, PLLC offer personalized representation for workers injured on the job. The firm represents clients across the state in Boca Raton, Coral Gables, Coral Springs, Fort Lauderdale, Ft. Myers, Orlando, and Sunrise. Both in and out of the courtroom, Benn, Haro & Isaacs, PLLC is dedicated to providing the highest quality legal counsel to Florida workers.