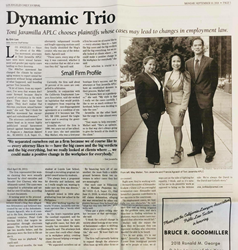 The climate has changed and women are now encouraged to report sexual harassment without being ashamed.
LOS ANGELES (PRWEB) October 11, 2018
Renowned civil and workers' rights attorney and #MeToo advocate Toni Jaramilla was recently featured in the Los Angeles Daily Journal, along with senior associate, May Mallari, and Francis Agcaoili, who is of counsel to the firm, in an article entitled "Dynamic Trio." The article discusses why Jaramilla's firm chooses plaintiffs whose cases may lead to changes in employment law.
Since the inception of the #MeToo movement, Jaramilla's firm has seen more sexual harassment and gender pay equity cases. "The climate has changed and women are now encouraged to report sexual harassment without being ashamed," said Jaramilla.
Mallari joined the firm in 1997, with Agcaoili joining in 2004. As a team, they look for cases that have the potential to affect change in workplace policy, thus creating impact beyond helping a wronged client. Of course, they fight vigorously to ensure full remedies for their clients in all the cases they take. The Jaramilla firm has been practicing employment law exclusively since 1994, and has litigated a plethora of discrimination, harassment, wrongful termination, and unpaid overtime wage cases.
A client recently reviewed Jaramilla's firm and stated, "A friend of mine, who happens to be an attorney, referred me to Toni Jaramilla. She told me that she had come up against Toni in a legal matter and she had a lot of respect for how Toni practices the law and how effectively she represented her client. Toni worked on my retaliation case, and I could not have been happier with the results. Toni listened to me, but most importantly, she 'heard' my issues. I was experiencing a tough time at work. Very tough. She was a true advocate for me when I needed her most."
About Toni Jaramilla, A Professional Law Corporation
Toni Jaramilla is committed to achieving the best possible results for employees who have experienced problems in the workplace. Serving clients throughout Los Angeles, her focus is on achieving positive social change for workers. Through zealous and ethical advocacy, lawyers at the firm have built a reputation for excellence in the practice of employment and labor law. For more information, please call (310) 551-3020, or visit http://www.jaramilla.com. The office is located at 12100 Wilshire Blvd., Suite 600, Los Angeles, CA 90025.
About the NALA™
The NALA offers small and medium-sized businesses effective ways to reach customers through new media. As a single-agency source, the NALA helps businesses flourish in their local community. The NALA's mission is to promote a business' relevant and newsworthy events and achievements, both online and through traditional media. The information and content in this article are not in conjunction with the views of the NALA. For media inquiries, please call 805.650.6121, ext. 361.