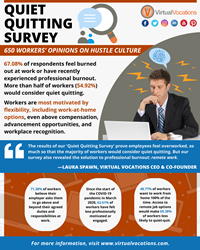 "Employees report that access to remote work options is the number one deterrent to quietly quitting." –Laura Spawn, CEO and co-founder of Virtual Vocations
TUCSON, Ariz. (PRWEB) November 14, 2022
New survey results show remote work could be the solution to "quiet quitting."
As part of its seventh annual National Work and Family Month celebration from Oct. 11–13, 2022, Virtual Vocations surveyed 650 workers to learn more about how they perceive quiet quitting and whether they've considered joining in the trend.
The results paint a picture of a workforce eager to embrace flexibility as an alternative to hustle culture.
"Quiet quitting has been a fixture of online employment chatter in 2022," said Virtual Vocations CEO and co-founder Laura Spawn. "During National Work and Family Month, we wanted to investigate whether quiet quitting is something workers have practically considered or if it is simply a buzzword that makes for interesting headlines."
The survey found that nearly 3 in 4 workers (71.38%) feel their employer asks them to go above and beyond their agreed duties and responsibilities at work—and that can have real consequences when it comes to employees' motivation and productivity. The survey found:

Since the start of the COVID-19 pandemic in March 2020, 62.61% of workers have felt less professionally motivated or engaged.
More than two-thirds of respondents are currently feeling burned out at work or have recently experienced professional burnout.
With feelings of burnout looming and pressure mounting from their employers to go beyond the scope of their job descriptions, it's hardly a surprise that more than half of workers surveyed (54.92%) said they would consider quiet quitting. But for many, there's an obvious solution: greater flexibility in time and location.
"Employees feel overworked, so much so that the majority of workers would consider quiet quitting. But our survey also revealed the solution to professional burnout: remote work," Spawn said. "Employees report that access to remote work options is the number one deterrent to quietly quitting."
The survey found that flexibility at work, including remote work options, outweighed advancement opportunities, workplace recognition, and even compensation as the greatest motivator for working professionals. In fact, nearly half of respondents (48.77%) said they want to work from home 100% of the time.
For professionals in remote, hybrid, and onsite work environments who want to avoid feeling burnt out without hopping on the quiet quitting trend, Virtual Vocations offers several tips for overcoming hustle culture:

Learn when to say "no." If you are overwhelmed and cannot accommodate another request, politely decline and explain why.
Avoid multitasking. Often, trying to tackle multiple to-dos at once means none get accomplished. Focus on one project at a time.
Ask for help. Pursue career coaching if you fear professional burnout, or talk to a therapist if you have concerns about your mental health and wellness.
To learn more and view the full survey results and analysis from Virtual Vocations, visit: https://www.virtualvocations.com/blog/annual-statistical-remote-work-reports/quiet-quitting-survey-650-workers-opinions-hustle-culture/
ABOUT VIRTUAL VOCATIONS
Founded in 2007 by CEO Laura Spawn and her brother, CTO Adam Stevenson, Virtual Vocations is a small company with a big mission: to connect jobseekers with legitimate remote job openings. To date, Virtual Vocations has helped more than four million jobseekers in their quests for flexible, remote work.
In addition to providing a database of current, hand-screened, and 100% remote job openings, Virtual Vocations offers jobseekers a number of tools to aid in their job searches, including exclusive e-courses and downloadable content, and resumé writing services. Virtual Vocations also releases several data-driven reports each year on current trends in remote work.
Virtual Vocations, Inc. is a private, family-owned, and 100% virtual company incorporated in Tucson, Arizona.
PRESS INQUIRIES
Kimberly Back
kim(at)virtualvocations(dot)com
VirtualVocations.com