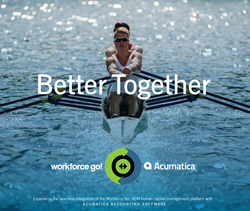 This collaboration gives our clients a simple way to bring Payroll, People, Time, and Finance together in one location.
DALLAS (PRWEB) November 21, 2019
Workforce Go!, a provider of cloud-based payroll, people, and time management solutions and services, has developed an industry leading custom, bi-directional integration for Workforce Go! HCM and Acumatica, a provider of ERP business software solutions for small and mid-sized businesses.
Workforce Go! developed the integration, which allows the two systems to communicate real-time and seamlessly. Businesses using both software platforms can automatically centralize the information from their workforce management and accounting systems using automated data feeds rather than manual processes.
"We're excited to offer our clients this solution that leverages the power of two of their critical business systems," said Chris Goheen, president of Workforce Go! "Our custom integration means that clients can spend less time and energy on cumbersome manual tasks and gain the visibility into information needed to make the most informed decisions. This collaboration gives our clients a simple way to bring Payroll, People, Time, and Finance together in one location."
Click here to view a video of the Workforce Go! Acumatica Integration
Workforce Go! is a proud sponsor of the 2020 Acumatica Summit being held at the Cosmopolitan in Las Vegas on January 26th. We are excited to showcase our certified bi-directional integration bringing together Acumatica's award-winning Cloud ERP with Workforce Go's industry leading Cloud based payroll, People and Time. Workforce Go! will be located at booth 34. If you are planning on attending, be sure to stop by and register to enter into our Big Cash drawing where you can win up to $7,000!
About Workforce Go!
Workforce Go! provides a cloud-based human capital management platform designed to help employers reduce costs and more efficiently manage people-related processes. The product suite includes payroll, time and labor management, benefits administration, and HR services. It can be delivered as a consolidated package or as stand-alone components, scalable to any sized organization and set up to allow for easy integration with any accounting, financial, or ERP solution. http://www.myworkforcego.com
About Acumatica
Acumatica Cloud ERP provides the best business management solution for transforming your company to thrive in the new digital economy. Built on a future-proof platform with open architecture for rapid integrations, scalability, and ease of use, Acumatica delivers unparalleled value to small and midmarket organizations. Connected Business. Delivered. For more information, visit http://www.acumatica.com.