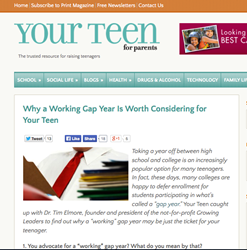 A working gap year gives them the freedom to test interests in creative ways.
Beachwood, OH (PRWEB) July 30, 2014
Oftentimes, teenagers are pressured to jump from high school straight into college. The problem with this practice is that teens are not always given the chance to consider what they really want to do with their lives. As a result, they can waste much time and money taking unnecessary college classes while trying to figure out what major will best suit them.
One proposed solution to this problem is the growing trend of the working gap year, which Your Teen Magazine for Parents covers in "Why a Working Gap Year Is Worth Considering for Your Teen." The article, which features Dr. Tim Elmore, founder and president of the not-for-profit Growing Leaders, is available here: http://yourteenmag.com/2014/07/gap-year-teen.
Or, get additional perspectives here:
Gap Year Made College Even Better
http://yourteenmag.com/2014/02/gap-year-experience
Gap Year Offers Teens a Break from Academics Before College
http://yourteenmag.com/2013/10/gap-year
"Teens and their families need options in general and as they invest in advanced education," Your Teen Editor-in-Chief Susan Borison says. "A working gap year gives them the freedom to test interests in creative ways."
With a working gap year, teens will spend one year after their high school graduations to participate in paid internships in various fields to determine which career path they prefer to take. On the other hand, when teens are forced to immediately attend college after graduating high school, they may not have a clear sense of identity and often are unsure of what career path they want to pursue.
An estimated 40 percent of teens end up switching their majors multiple times, resulting in a loss of scholarships, which have time restrictions and force parents to drain their finances. When the working gap year is completed, however, teens can go to college and pursue their desired course, spending the least amount of time and money.
Here are examples of the advice parents can get from the series:
Setting the Parameters
Shortly before graduation time, parents need to have a discussion with their teenagers about the working gap year and how it can be structured. Experts say boundaries must be set, such as needing to start looking for work opportunities before the school year ends and not dragging this project on any longer than the year. If parents are not clear about the boundaries, then teens may use this time to goof off and become lazy. Teens need to know the importance of the working gap year as it is their transition into adulthood.
The Benefits of a Working Gap Year
For starters, teens earn their own money while they work different jobs to try and figure out where they fit in the world. When compensation is earned for fulfilling work, this enables teens to develop a strong self-esteem as their efforts are rewarded. Another benefit is that teens get to learn all about good old fashion work ethics. They get a sense of reality and how nothing comes easy in life. Teens also can develop a sense of responsibility, including budgeting and managing their own finances. There is also no cost to parents. Parents will not be draining their bank accounts while teens take a multitude of unnecessary classes in college as a means of trying to discover their identities. At the end of the working gap year, teens are more likely to know what kind of work they enjoy and where they can fit in the world.
How to Find Opportunities
Parents can work together with their teens to find paid internships and apprenticeships in fields that interest them. Additionally, the teens themselves can do their own research to find other ways to gain experiences, including traveling and working on an environmental project or with a community mission. When parents and teens alike plan ahead for the working gap year, the approach is more likely to be successful.
About Your Teen Magazine:
Your Teen addresses the challenges inherent in raising teens and helps parents of teens to continue the journey toward the goal of successful parent. In the magazine format, parents can post questions, offer personal tactics and hear the different perspectives of professionals, other parents and teenagers on relevant topics. Your Teen hopes to ease the worry.
Your Teen is available at http://www.yourteenmag.com/subscribe and in select Barnes & Noble Bookstores.