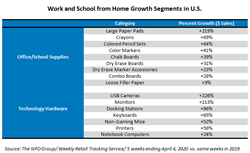 PORT WASHINGTON, N.Y. (PRWEB) April 22, 2020
With many workers and students transitioning to work and study at home, office supplies and tech hardware have become household essentials in their own right. Over the last five weeks, the U.S. office supplies and technology industries have seen retail sales lifts in a number of segments as consumers seek to be productive, connected, and organized remotely, according to The NPD Group.
Categories tied to home office solutions, organization, and school from home saw double- and triple-digit dollar sales increases at retail in the five weeks ending April 4. Furthermore, while back-to-school is the "holiday season" for the office supplies industry, the current circumstances have prompted an off-season, springtime surge in traditional supplies purchases. Additional essentials including traditional pens and filing and storage products experienced strong growth in the first two weeks of March—coinciding with companies and schools beginning their shift to at-home operations—followed by sales softening and declines in the proceeding weeks.
"All of the dynamics at play have created a need for more supplies than usual, and magnified pre-pandemic trends pertaining to sustainable and digital solutions," said Leen Nsouli, NPD's office supplies industry analyst. "Office supplies is seeing a boost in SMART notebook sales as sustainability becomes more top-of-mind for consumers and appeal grows for reusable and eco-friendly options. In addition, the union of traditional supplies and technology means that for the longer term, manufacturers best positioned for the future are those adapting to create a complete and balanced model for consumers to easily travel from physical to digital under one umbrella."
"In response to this new reality facing many Americans today, the technology market has pivoted its focus to at-home productivity and is seeing historic sales in selected hardware and accessory categories," said Stephen Baker, NPD's technology industry advisor. "Although growth is beginning to level off, in the dash to equip their homes for distance connections consumers paid more attention, and allocated more funds, to getting their new home office setup right, likely anticipating that this environment would extend for quite a while."
As traditional supplies and technology converge to boost productivity at home, the topic of broadband also comes into play as meeting rooms and classrooms have had no choice but to go virtual. NPD's Rural America and Technology report found that nearly one-third, or 31%, of U.S. households are without broadband access (25Mbps per second download speed or greater), and the vast majority are in rural markets.
"The implications caused by the lack of broadband access are more strongly felt today, amplified by the work and school from home transition, which has not been a smooth one for some parts of the country," said Eddie Hold, president of Connected Intelligence at NPD. "I am hopeful that 5G technology will begin to make a more positive impact in rural America, bringing broadband speeds to areas of the country that are hard to reach with traditional fiber-based solutions. Expect carriers to accelerate their rural 5G strategies over the next year or so to address the digital divide challenge."
Source: The NPD Group/ Weekly Retail Tracking Service/ 5 weeks ending April 4, 2020
***
About The NPD Group, Inc.
NPD offers data, industry expertise, and prescriptive analytics to help our clients grow their businesses in a changing world. Over 2,000 companies worldwide rely on us to help them measure, predict, and improve performance across all channels, including brick-and-mortar and e-commerce. We have offices in 27 cities worldwide, with operations spanning the Americas, Europe, and APAC. Practice areas include apparel, appliances, automotive, beauty, books, B2B technology, consumer technology, e-commerce, fashion accessories, food consumption, foodservice, footwear, home, juvenile products, media entertainment, mobile, office supplies, retail, sports, toys, video games, and watches. For more information, visit npd.com. Follow us on Twitter: @npdgroup.