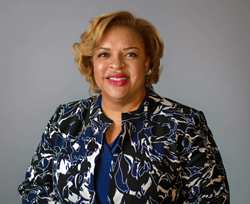 But, now is our firm's chance to elevate transit's value to its highest level ever and support our transit agency partners as they gain greater insight into people's travel needs, common obstacles and what they value most.
KANSAS CITY, Mo. (PRWEB) November 22, 2019
HNTB Corporation's transit and rail practice continues to expand staff and technical expertise across the country to help transit authorities improve mobility and gain greater engagement from customers.
"Across the nation, transit leaders face complex challenges as they strive to increase system usage and long-lasting support from the communities they serve. They are working to enhance systems and services while adapting to private-sector innovations currently disrupting the transportation industry," said Kimberly Slaughter, HNTB senior national practice consultant. "But, now is our firm's chance to elevate transit's value to its highest level ever and support our transit agency partners as they gain greater insight into people's travel needs, common obstacles and what they value most."
Adding experience and expertise
As HNTB's team of transit and rail professionals grows across the country, recent senior-level new hires include:

Kim Proia, PE, joined HNTB in Seattle as a project director and vice president. Her project experience includes program management, preliminary engineering, final design, and environmental impact statements. She has worked closely with the Federal Transit Administration's New Starts and Core Capacity programs.
David Kutrosky serves as national practice consultant, based in Oakland, California. Previously, he was managing director of Capitol Corridor/BART where his primary responsibility was to ensure the safe, reliable, customer-focused operation of train service connecting the three Northern California metro regions. He also provided key leadership for national high-speed and intercity passenger rail programs.
Jack Buckingham joined as vice president, program delivery, based in the firm's District of Columbia office. With more than four decades of experience overseeing planning, budgeting and delivery of some of the nation's largest and most complex transit and rail projects, Buckingham is a valuable resource to HNTB's clients and colleagues working to advance mobility in their communities.
Anna Barry, program manager and vice president, is based in the firm's Boston office, bringing more than 40 years of transportation experience to HNTB. Most recently, she served as deputy commissioner for the Connecticut Department of Transportation, acting as that agency's chief operating officer helping to improve and expand Connecticut's intermodal system.
Chris Masters, PE, is based in the firm's Dallas office as transit rail project director and associate vice president. He has 23 years of experience, serving on projects for Dallas Area Rapid Transit and Denton County Transportation Authority, among others in North Texas. He was named as a "Top 20 Under 40" professional by Engineering News-Record magazine in 2014.
Charles Beauvoir, PE, SE, joined HNTB as senior program manager and vice president, based in the firm's Houston office. Most recently, he served as an executive officer in the Project Management Division of the Los Angeles County Metropolitan Transportation Authority, where he oversaw design and construction of the $2 billion Crenshaw/LAX Corridor Light Rail Project and Southwestern Yard Maintenance Facility.
Industry involvement
HNTB professionals are active members and leaders in a variety of professional associations, including the American Public Transportation Association, Conference of Minority Transportation Officials and WTS, focusing on advancing the transit and rail industry and its professionals. Among them:
Kimberly Slaughter is a national steering committee member for Rail~Volution, which for 20 years has supported building livable communities with transit. She is the former APTA chair of its planning policy and program development committee and is on APTA's board of directors. She also is a graduate of the prestigious Leadership APTA program and is currently serving as chair of the Leadership APTA committee. In addition, she is serving her fourth year on COMTO's national organizing committee for the annual Women Who Move the Nation breakfast. She is a member of WTS International and previously named Woman of the Year by its Houston chapter. Most recently, Slaughter was appointed by the African American Mayors Association to the group's Business Council.
Diana Mendes, Mid-Atlantic Division president, serves on the board of directors for Rail~Volution. Mendes has been honored as COMTO's 2019 Corporate Executive of the Year award and its 2018 Shirley A. DeLibero award as a Woman Who Moves the Nation. Most recently, she was chair of APTA's legislative committee and a member of its executive committee. Mendes previously received the 2017 Training Professional of the Year Award from the National Transit Institute and was named Woman of the Year for WTS-Washington, D.C. chapter.
Steve Granson, principal planner, based in Houston, serves as chair of New Rail~Volutionaries, which is a national networking group associated with the Rail~Volution conference. The group was formed to make the conference more accessible, engaging and meaningful for new and emerging professionals. He also was honored earlier this year with Mass Transit magazine's prestigious "Top 40 Under 40" award. Granson is a member of the incoming Leadership APTA Class of 2020.
HNTB has involvement with many of the nation's most high-profile transit programs, including the LA Metro Sepulveda Pass Alternative Assessment and LA Metro's Crenshaw/LAX Transit Corridor; Dallas Area Rapid Transit Blue Line Light Rail extension; Santa Clara Valley Transportation Authority's Bay Area Rapid Transit Silicon Valley Phase II; Sound Transit's West Seattle-Ballard Link Extension; Washington Metropolitan Area Transit Authority Quality Assurance, Internal Compliance Oversight and Systems GPC; Metropolitan Atlanta Rapid Transit Authority GPC and engineering on-call contracts; Chicago Transit Authority's Wilson Station; and Charlotte Area Transit System's LYNX Blue Line Light Rail Extension in North Carolina.
About HNTB
HNTB Corporation is an employee-owned infrastructure firm serving public and private owners and contractors. With 105 years of service in the United States, HNTB understands the life cycle of infrastructure and addresses clients' most complex technical, financial and operational challenges. Professionals nationwide deliver a full range of infrastructure-related services, including award-winning planning, design, and program and construction management. For more information, visit http://www.hntb.com, or follow HNTB on LinkedIn, Twitter, Facebook or Instagram.