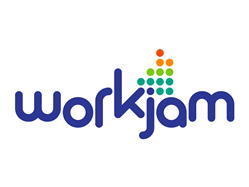 MONTREAL (PRWEB) November 07, 2019
WorkJam announced today that it is now a member of Honeywell's Independent Software Vendor Partner Program, giving WorkJam the opportunity to work with Honeywell customers around the world to find solutions for Honeywell's mobile computers and data capture products.
"Being a part of Honeywell's Global Independent Software Vendor Program gives WorkJam the opportunity to extend our Digital Workplace to Honeywell device users. The partnership enables shared customers to use Honeywell devices to access communication tools, manage tasks, complete training, manage schedules, and more," said Will Eadie, Global Vice President of Sales & Alliances at WorkJam. "We look forward to continuing to innovate with Honeywell to improve customers' employee satisfaction while driving their customer growth, operational efficiency, and profitability."
WorkJam's Digital Workplace technology is designed to bring workforces across the retail, manufacturing, supply chain, and healthcare industries together through transformative communication, experiential learning, agile scheduling, and tailored recognition through a single employee application.
"Having an end-to-end hardware and software solution set offers a much broader value proposition to our customers, and partnering with companies like WorkJam helps us to realize such a solution," said Lori Haggart, director of software innovation at Honeywell. "WorkJam's tools provide the ability to drastically improve employee engagement in a way that works efficiently for everyone."
Honeywell customers can benefit from using WorkJam to solve their business needs by efficiently connecting Honeywell hardware and WorkJam"s software, making customers in the retail, manufacturing, and supply chain industries more efficient.
About WorkJam:
The WorkJam Digital Workplace unleashes the potential of your enterprise workforce through agile scheduling, transformative communication, experiential learning, and tailored recognition.
Available in over 20 languages & deployed in over 30 countries, WorkJam increases sales conversion & CSAT, drives down labor costs, lowers absenteeism and attrition rates, improves compliance and improves the customer experience through a more skilled, motivated and engaged workforce. For employees, WorkJam delivers more opportunity & control over their schedule, providing work-life balance, as well as the tools to develop skills, improve business acumen, and maximize their earnings to advance their economic well-being. Learn more at https://www.workjam.com