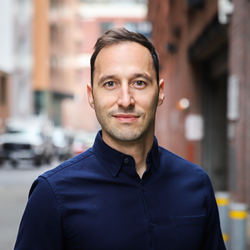 SAN FRANCISCO (PRWEB) September 19, 2019
Worklete, a technology platform that reduces musculoskeletal injuries by 53 percent on average, today announced that its co-founder and vice president of product John Leo Post will be giving a Face2Face talk at the NBWA 82nd Annual Convention and Trade Show. The event will be held at Caesars Palace in Las Vegas, NV on September 22-25, 2019.
John Leo Post is a renowned movement expert who has coached with top minds in strength and conditioning, including gold medalists, CrossFit champions, and professional athletes. John is driven by the mission to make quality movement accessible to all and empower humans to live pain-free lives.
Musculoskeletal injuries (MSDs) cost U.S. businesses $31 billion a year in direct costs alone, and according to the U.S. Bureau of Labor Statistics, stock and material movers incur more MSDs than any other occupation. A case of bottled beer can weigh up to 42 pounds and a full keg weighs 160 pounds. Moving that amount of weight multiple times a day can lead to significant risk of developing a musculoskeletal injury.
This session will explore proven strategies for preventing common MSD's like strains, sprains, and back injuries. John will also explore Worklete's method to significantly reduce costs while strengthening culture and driving operational efficiency.

Topic: Less Pain, More Gain: How to Reduce Workers' Comp. Injuries by 30% - 60%
Speaker: John Leo Post, Co-founder and vice president of product, Worklete
Date and Time: Monday, September 23 at 12:45 pm
Location: Julius Ballroom, Caesars Palace
The NBWA Annual Convention and Trade Show is an annual gathering that will focus on the latest industry developments and have discussions on the most pressing issues impacting the business. The event will include multiple speakers and rich content focusing on topics ranging from sales and warehousing, to leadership and technology. Executives and safety professionals in the beverage distribution industry are encouraged to attend. For more information, visit: https://www.nbwa.org/events/annual-convention
About Worklete
Worklete reduces musculoskeletal injuries in frontline workers by 53% on average, saving customers millions of dollars a year in injury-related costs. Its mobile-ready platform builds safe habits over time, strengthening safety culture while improving operational efficiency. Founded in 2015, Worklete's customers include Nestlé Waters, Penske Logistics, and Hub Group Trucking.
Worklete is headquartered in San Francisco and is backed by Trinity Ventures, Launch Capital, RiverPark Ventures, and Kapor Capital.
To learn more, visit http://worklete.com.