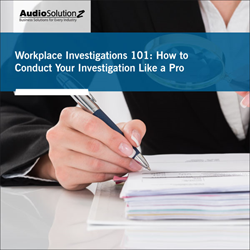 Learn the best practices on how to conduct a fair and impartial investigation, and reduce an organization's risk of liability.
DURHAM, N.C. (PRWEB) August 08, 2018
AudioSolutionz, a division of audio conference and corporate education leader ProEdTech, will host the live webinar, "Workplace Investigations 101: How to Conduct Your Investigation Like a Pro", with industry veteran Dr. Susan Strauss, Ed.D. on Thursday, August 16, 2018 at 1:00 PM ET.
In workplace investigations, the most common thought is that of investigating harassment complaints, but workplace investigations are often necessary to discover, prevent and address other problems – such as theft, safety or OSHA issues, retaliation, vandalism, substance abuse, social media violations, company policy violations, and so on. It is an employer's duty to investigate, and the employees have an obligation to cooperate with the investigative process, but what does one do if one has a recalcitrant complainant, wrongdoer or witness?
Documentation and writing a final report are critical aspects of a workplace investigation process – and should begin as soon as an employee makes a complaint. One of the first questions to consider is whether the complaint requires a full-blown formal investigation or a less formal resolution because the complaint is a minor policy violation. It is crucial to know what steps to take if a need to search an employee's desk, computer, smart phone or locker arises. Plus, when should one involve the legal counsel, and what evidence should be gathered?
In this webinar, industry veteran Susan Strauss will answer all these questions – and teach the art and science of conducting an investigation. She will walk attendees through the best practices on how to conduct a fair and impartial investigation, and reduce the organization's risk of liability. Strauss will provide practical tips on how to detect when someone is lying, teach attendees how to conclude and follow up an investigation, and how to write a formal investigation report.
The session will provide insights to HR managers, consultants, supervisors and other related senior professionals on how to:

Identify what constitutes a complaint
Determine if an investigation is necessary
Discuss the steps of a workplace investigation
Explore the intricacies of interviewing the accuser, accused and witnesses
Demonstrate good documentation
Differentiate between a formal and informal investigative procedures searches
Determine credibility
Discuss tips on whether someone is lying
Help attendees reach a conclusion following an investigation
Follow up with appropriate action based on the outcome of the investigation
Help attendees write a formal report outlining the investigation
For more information and to register, visit: https://www.audiosolutionz.com/hr-compliance-employment/internal-harassment-bullying-investigations.html
Get $40 off on our conferences and webinars. Use Code PRWEB40 on checkout (applicable for all purchases).
About ProEdTech
ProEdTech is a leading source of knowledge and training for professionals in over 15 industries, serving individuals, businesses and their employees around the globe. It offers webinars, online conferences, seminars, boot camps, books, DVDs, white papers, industry reports and other learning tools from industry experts and insiders who provide a fresh perspective on key issues, trends and regulations in order to simplify governance, risk and compliance (GRC) for enterprises and industry professionals.
ProEdTech's AudioEducator webinars offer updates, regulatory knowledge and information on the latest news in various medical specialties, as well as coding and billing updates, and analysis of regulations that affect ambulatory surgical centers, home health, long term care and hospice facilities, hospitals and healthcare systems, health insurers and physician practices. Webinars are also offered through AudioSolutionz in the technology, human resources, construction and housing, ICT and telecom, manufacturing, consumer packaged goods and retail, safety and security, transportation, energy and environment, education, trade, and chemicals industries. ProEdTech's Eli Financial platform offers tax and banking professionals, focusing on providing high-quality online training products customized for U.S. lenders and tax practitioners that include the latest updates from the IRS, CFPB and other regulatory authorities. ProEdTech regularly provides professionals the opportunity to get answers to their most complex questions directly from experts, without having to attend costly live conferences. To learn more, visit: http://www.proedtech.com/.