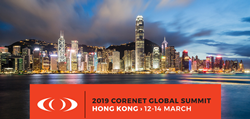 "Along with coworking, Activity-Based Working is the sharing economy's answer to workplace. Instead of 'owning' a desk at the office, program participants are enabled to use the spaces that work for them, moment by moment." - Melissa Marsh, Founder and Executive Director of PLASTARC
HONG KONG (PRWEB) March 11, 2019
PLASTARC, a New York-based workplace design consultancy, will appear at the CoreNet Global Summit APAC, held in Hong Kong Mar. 12-14. The firm's founder, Melissa Marsh, will join a panel of experts to discuss the interaction between Activity-Based Working (ABW) and mobile technologies currently being deployed in workplaces.
In ABW environments, occupants are encouraged to choose to work in a range of different spaces throughout the day—for example, choosing a private room, shared table, or group meeting space as needed. This offers an alternative to traditional arrangements that assign spaces based on hierarchy or role. Increased freedom of movement is made possible by technology, which both allows workers to be mobile and enables them to book the spaces they need in real time. ABW offers more control for the individual and makes the typical use of space dynamic rather than sedentary, crucial from a wellness perspective.
Organizations around the world are embracing flexible work designs, with 78% of corporate real estate executives in APAC reporting that they are implementing or plan to adopt ABW in the next two years. Marsh believes the strategy's popularity stems from its ability to offer occupants a better workplace experience: "Along with coworking, Activity-Based Working is the sharing economy's answer to workplace. Instead of 'owning' a desk at the office, program participants are enabled to use the spaces that work for them, moment by moment."
Despite the benefits of user control, wellness, and spatial efficiency, the switch to ABW may sometimes cause friction with occupants who are accustomed to fixed office seating, or implementation may seem daunting to firms that lack experience with flexible workspaces. The CoreNet panel addresses these multiple facets, bringing together two companies that are already offering ABW to their employees, along with a software provider that makes it easier to implement, and a consultancy that enables the design of the spaces and policies which support this way of working.
Marsh will be joined on the panel by Nicholas Lesek, APAC regional head of Corporate Real Estate and Services for Swiss RE. A global leader in the insurance industry, Swiss Re is using real-time data to analyze how different parts of the workplace are being used. Caroline Court, Head of Real Estate - Facilities Management for East Asia at Ericsson, will also join and speak about progress and challenges in integrating ABW into Ericsson's unique environment. The panel will be moderated by Erica Eaton, VP of Business Development and Strategy for leading workplace experience app provider Comfy. Comfy began as an app that allowed users to vote on the temperature in their office, and has now expanded to offer an Agile Workplace Solution to help corporate real estate leaders around the world to roll out their ABW initiatives. Recently acquired by Siemens, they are now able to support resource booking and location-based functions in flexible work spaces. Marsh and her team at PLASTARC have guided multiple firms in their transition to flexible work styles, combining design, social science, and technology expertise with change management services.
The group will discuss recent developments and lessons learned from implementing this workplace strategy in various settings, and how smart technology can help. They will also address the ways in which ABW can elevate the workplace experience in support of both employee wellness and business goals. The panelists will pull from their personal experiences leading corporate real estate and building technology initiatives, in which they engaged multiple organizational stakeholders to successfully implement flexible working. This session will also address change management steps that can help make a transition to ABW successful.
About CoreNet and PLASTARC:
CoreNet is the premier professional organization of corporate real estate, and their summits are attended by a wide range of real estate stakeholders—operators, managers, brokers, architects, interior designers, facility managers, coworking providers, and the internal real estate teams Fortune 500 companies. CoreNet has chapters in major cities across the US and globally.
PLASTARC is a long-time contributor to CoreNet chapters and events, first speaking in 2013 about "fail fast" facilities management and the importance of experimenting with workplace, a theme they reprised at CoreNet LA 2015 with client Mozilla. At CoreNet DC in 2014, they appeared with Miguel McKelvey of WeWork, helping to introduce real estate leaders to coworking. In 2017, PLASTARC appeared at both CoreNet Seattle and Corenet APAC in Singapore, speaking about innovations in corporate coworking strategy with their client Verizon. They wrote about the intersection of coworking and corporate workplaces for CoreNet's Leader magazine, drawing on experiences with clients Mozilla and Unity Technologies. PLASTARC also appeared with Comfy at CoreNet APAC in 2018 to speak about user experience and the benefits of using mobile technology to control features of buildings, recording a podcast with Comfy's Director of Sales and CoreNet Young Leader Chris Hallas.