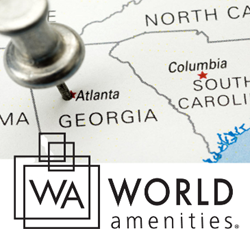 When it comes to fast and cost-effective customer service and product delivery, Atlanta was our top choice for our third distribution center," said Paul Hodge. "The new center will help us support our current customer loyalty as well as gain new customers."
SAN DIEGO (PRWEB) November 09, 2021
San Diego-based World Amenities Inc., a trusted leading global supplier of quality luxe skincare-based brands and custom amenities, necessities, and accessories, continues fulfilling its 2021-2022 growth initiatives with the opening of its third distribution center in Atlanta, Georgia.
Based in Atlanta, the 40,000 square feet distribution center is ideal for servicing the needs of World Amenities' expanding customer base. From supplying New York City's Manhattan hotels to customers across the South, Eastern seaboard, and the Caribbean, product shipping time is estimated at 48 hours.
Managing Director and Owner Paul Hodge estimates moving between 65M to 75M units from the Atlanta center in its first year. In addition, the location increases World Amenities' ability to service the East Coast-based cruise lines, which often require ordering flexibility and last-minute delivery.
World Amenities operates two distribution centers in California with 48-72-hour shipping. The San Diego center services its Southern California customers, and Garden Grove (Orange County) center handles deliveries west of the Rockies. Its third Georgia distribution center is a game-changer in that it makes 48-hour delivery to the South and East Coast a reality.
"When it comes to fast and cost-effective customer service and product delivery, Atlanta was our top choice for our third distribution center," said Paul Hodge. "The city has proven land transportation reliability as well as extensive air cargo capacity—offering superior regional and global access. We look forward to strengthening our position as a leader in the hospitality and cleaning industry space. The new center will help us support our current customer loyalty as well as gain new customers."
The Atlanta distribution center is World Amenities' second significant strategic move the company has made in 2021. Based on demand for shorter lead times for its products, management evaluated the benefits of relocating its manufacturing. In April, World Amenities moved the majority of its product and product packaging to North America. With the current status of the supply chain logistics industry, the move was fortuitous. The benefits of relocating manufacturing operations to North America include eliminating tariffs on overseas shipments, offering flexibility in all areas of production, providing shorter manufacturing lead times, and offering easy customization with the lowest MOQs in the industry.
To learn more about World Amenities, Inc. and its newest distribution center, visit its website at https://www.worldamenities.com.
About World Amenities, Inc.
Founded in 2015, World Amenities, an Inc. 5000 company, is a trusted leading global supplier of quality luxe skincare-based brands and custom amenities, necessities, and accessories. The company brings a wealth of 20 years of experience in the innovation, production, and distribution of advanced skincare and cosmetic brands to more than 70 global markets in 40,000 plus hotels, salons, spas, medical and educational sites. With three distribution centers, World Amenities is an influencer on the hospitality industry's standards and expectations. It uniquely designs, formulates, customizes, and manufactures each personal care guest room amenity, with artisanal skills and cosmetic-quality ingredients. In addition, World Amenities products are environmentally friendly, recyclable, and biodegradable. For more information, go to https://www.worldamenities.com.