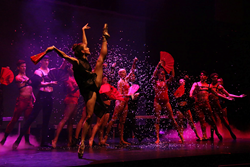 We hope this is the beginning of a long-term relationship, eventually leading the Choreo Awards to a permanent home on a network, cable or streamer." says co-producer George Paige.
LOS ANGELES (PRWEB) May 14, 2021
The 2020 World Choreography Awards (WCA) will stream for the first time on the ticketed live stream platform Veeps, May 16, 6pm PST/9pm EST from The Avalon Hollywood in Hollywood, CA.
This year's show is a coproduction between Allen Walls, the producer and founder of the World Choreography Awards and co-producer George Paige of GPA Entertainment, who has produced numerous TV specials and series for major networks including Michael Jackson: The Legend Continues (Showtime/CBS), Brady Bunch Home Movies (CBS) The New Mickey Mouse Club (Disney Channel), The Young Hollywood Awards (CW Network) and The Doors: Dance on Fire (Universal).
WCA is also sponsored by E.O.A Productions with its founder, "Enoch the Producer" producing original music for the show. Enoch's recent collaborations include upcoming unreleased projects with Justin Bieber, Will.i.am, Jason "Poo Bear" Boyd, and Will Smith Management. Enoch also has collaborated with Grammy Award singer songwriters Poo Bear, Stacey Barthe, Akil King, Darius Coleman and Bankulli.
The World Choreography Awards, known as the "Oscars of Dance", celebrates the world's best media dance choreographers in the following categories: Motion Picture, Music Video, Television Reality Show/Competition, Television Award Show/Special, Television Episodic, Commercials, Digital Content and Live Stage Performance for Broadcast.
"George Paige and I are very excited that the 2020 Choreo Awards will reach more audiences this year by streaming on the Veeps platform," says founder and producer Allen Walls, "We are thrilled that E.O.A. Productions is sponsoring this landmark streaming debut of the 10th Annual World Choreography Awards."
"We are pleased that E.O.A Productions recognizes the value of the World Choreography Awards and is working closely with Allen and our team on this next evolution of the show. We hope this is the beginning of a long-term relationship, eventually leading the Choreo Awards to a permanent home on a network, cable or streamer." says co-producer George Paige. "Although the WCA is often referred to as the 'Oscars of Dance', it's more of a cross between The Grammy's, for its fast-paced entertainment and performances and the MTV Awards for its all-out party atmosphere due to the joyful spirit of a diverse dance community celebrating the world's greatest choreographers and their work."
The 2020 World Choreography Awards (delayed due to the pandemic) is hosted by two-time Dancing with the Stars Champion and Emmy-nominated choreographer, Cheryl Burke.
Show nominees include motion picture choreographer nominees Jamal Sims, Andy Blankenbuehler and Kenny Ortega from Disney's Aladdin, Cats and Descendants 3. Television nominees include Derek Hough, Marguerite Derricks and Tessandra Chavez from television shows World of Dance, The Marvelous Mrs. Maisel, Holiday's with The Hough's and Christmas in Rockefeller Center Special.
To purchase tickets to the 2020 World Choreography Awards live stream, May 16, 6pm PST/9pm ET, go to worldchoreographyawards.veeps.com.
Follow @choreoawards on TikTok and follow @worldchoreographyawards on Instagram and Facebook.
About the World Choreography Awards: The World Choreography Awards (Choreo Awards), also known as the "Oscars of Dance", is an annual live-awards show that celebrates creativity and innovation by recognizing excellence in the art of dance choreography across media. Founded in 2011 by Allen Walls, the Choreo Awards takes place every year, in Los Angeles, to showcase the most innovative and original works by the world's best choreographers featured in television, film, commercials, digital content, and music videos. The show is produced by its founder, Allen Walls and George Paige. Co-produced by Cheryl Baxter-Ratliff.
About E.O.A Productions: E.O.A. Productions, which stands for "Excel Over Adversity," is a fast-growing production company created by perhaps one of the youngest music geniuses "Enoch The Producer" in music. With a team of skilled songwriters, musicians and artists, E.O.A. Productions aims to change the way we hear and interpret music by creating a space where sound meets imagery and producing quality output company wide.
About Enoch The Producer: Enoch Osei-Acheampong is a 27-year-old American born Musician/Music Producer. His background in music stems from the church, playing the drums since the age of 2. Throughout middle school and high school, Enoch was heavily involved in various music programs, having the ability to incorporate marching, jazz and concert band into every genre of music he produces. Enoch is signed by 5x Grammy Award Winning Singer Songwriter Jason ''Poo Bear'' Boyd. Enoch is on his way to reaching the 4 corners of the world with his sound and his purpose.
About Veeps: Veeps is a direct-to-fan experiential platform, custom-built for artists, by artists. Founded in 2017 by Sherry Saeedi, Benji and Joel Madden, it is the music industry's leading, premium live-streaming platform. In 2020 Veeps hosted hundreds of live stream shows that helped artists make millions of dollars in revenue and today, in partnership with Live Nation, Veeps continues with a mission to power artists in the most critical early stages of their development, all the way through the biggest, most important moments of their careers.