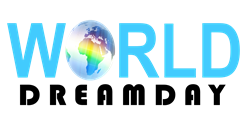 Our Intention for World Dream Day this year is to initiate a global conversation about the important role that ideas, goals, and dreams have in moving our world forward at a time when it is needed most.
NEW YORK (PRWEB) September 16, 2021
Observed annually on Sept 25th, #WorldDreamDay is the only global participatory holiday held with the express purpose of inspiring, motivating, and empowering individuals, families, schools, businesses, and communities to take time to focus on their own ideas, goals, and dreams and move them forward intending to benefit the world.
Even as the Covid-19 pandemic surged forward last year, World Dream Day achieved an estimated global reach of 74 million people. And organizers are hoping to reach even more in 2021.
"Our special day - World Dream Day - serves as a beacon of hope during a very tough time," said Ozioma Egwuonwu.
Egwuonwu founded the special day in 2012 while teaching a course at Columbia University about developing ideas and dreams. She said the theme of World Dream Day for 2021 is "Dream Forward".
"My intention is for this day to continue to be a source of global inspiration," Egwuonwu said.
With the majority of global events being held online this year, World Dream Day is no exception. It will be a day-long celebration that features a steady stream of inspirational talent observed in countries around the globe. Official, scheduled events include an opening address, a keynote workshop, and an inspiring, interactive closing event.
A special, yearlong initiative will also be launched on World Dream Day. It is called "The Dream Forward Thought Leader series and will feature leading-edge visionaries. These thought leaders will share their insight and inspiration to support global progress.
The first set of thought leader episodes will include conversations with philosopher, author, poet Bayo Akomolafe, who is Executive Director of the Emergence Network. Also featured are Nilima Bhat, author of Shakti Leadership, and Delvin Solkinson, creator of Visionary Permaculture.
"I continue to be amazed by the organic growth of World Dream Day," founder Ozioma Egwuonwu added. "But, now, it really feels like a day whose time has come."
The founder said the world is at a critical moment in human history.
"The time is now for individuals, business leaders, and communities to contemplate new paradigms and definitions of progress," said Egwuonwu. "World Dream Day was created to help our world move forward. And it is succeeding."
FOR MORE INFORMATION AND INTERVIEWS
Gemma Golden
Communications Manager
dream@worlddreamday.com
LEARN MORE AND ATTEND:
https://go.worlddreamday.org/register2021
https://go.worlddreamday.org/guide
https://go.worlddreamday.org/2021
https://go.worlddreamday.org/eventbrite
https://go.worlddreamday.org/videowelcome
Connect with World Dream Day via @dayfordreamers
Twitter: https://twitter.com/dayfrodreamers
Facebook https://www.facebook.com/dayfordreamers
Instagram: https://www.instagram.com/dayfordreamers
ABOUT WORLD DREAM DAY
Observed annually on Sept 25th, #WorldDreamDay is the only global participatory holiday held with the express purpose of inspiring, motivating, and empowering individuals, families, schools, businesses, and communities to take time to focus on their own ideas, goals and dreams and move them forward intending to benefit the world. https://worlddreamday.org