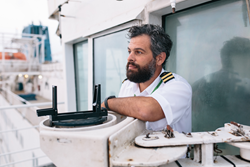 "It goes without saying – Mercy ships would not exist today without the dedicated deck and engineering officers who have labored long and hard to make this organization what it is today,"
GARDEN VALLEY, Texas (PRWEB) September 27, 2018
On World Maritime Day, Mercy Ships recognizes the critical role of maritime crew in the history of the global charity and their future continued success. For 40 years, Mercy Ships has relied on maritime volunteers for the safe operation and maintenance of their hospital ships, safety of their crew and patients, and delivery and storage of cargo including needed medical supplies and equipment. To date, the unwavering dedication of maritime men and women has enabled Mercy Ships to provide over 95,000 free surgeries and the delivery of services and materials valued at over $1.53 billion in low and middle-income nations.
The world's largest private hospital ship, the Africa Mercy, is staffed by 29 deck and 24 engineering crew. The vessel is docked in Conakry, Guinea for the next 10 months where crew plan on providing over 2,000 surgeries. After receiving free surgeries onboard, the patients leave physically and emotionally healed and transformed.
The technical crew get to see the transformations in patients.
"You see the patients coming, and their disfigurements are just horrible," said Second Officer Eric Baliantz. "Some have giant watermelon-sized tumors on their face and others, their bones are all bent the wrong way. Some people are blind, and Mercy Ships works to restore their sight. I like feeling I'm a part of something that's doing good work like that. Mercy Ships gives you the opportunity to be the best version of yourself."
The deck and engineering crew maintain the ship and keep all its services functioning for the surgeries and the safety of the 400 crew volunteers onboard from 40 nations. The engineering crew literally keep the lights on for surgery in the vessel's five state-of-the-art operating rooms.
"It goes without saying – Mercy ships would not exist today without the dedicated deck and engineering officers who have labored long and hard to make this organization what it is today," said Jim Paterson, Senior Vice President of Operations for Mercy Ships. "I don't believe we have ever missed one full day of surgery due to technical issues thanks to our dedicated Marine crew. Our mission to provide free surgeries and healthcare training for local medical professionals would be impossible without them. We encourage more mariners to volunteer to help us bring hope and healing to Africa. We currently have urgent needs for both deck and engineering crew."
Opportunities to volunteer are available at http://apply.mercyships.org/ and more information can be seen on the Mercy Ships Deck & Engineering Facebook page.
The 2018 theme for World Maritime Day celebrates the heritage of the International Maritime Organization (IMO). This same year, Mercy Ships celebrates their own heritage of 40 years of providing hope and healing. The contributions of maritime volunteers has been and will continue to be vital to providing free surgeries for some of the 5 billion people in the world affected by a global surgery crisis who do not have access to safe and timely surgery.
###
ABOUT MERCY SHIPS:
Mercy Ships uses hospital ships to deliver free, world-class healthcare services, capacity building and sustainable development to those with little access in the developing world. Founded in 1978 by Don and Deyon Stephens, Mercy Ships has worked in more than 70 countries providing services valued at more than $1.3 billion, treating more than 2.56 million direct beneficiaries. The Africa Mercy is crewed by 400 volunteers from up to 40 nations, an average of 1000 each year. Professionals including surgeons, dentists, nurses, healthcare trainers, teachers, cooks, seamen, engineers, and agriculturalists donate their time and skills to the effort. With offices in 16 nations, Mercy Ships seeks to transform individuals and serve nations one at a time. For more information click on http://www.mercyships.org
For More Information Contact:
For USA: Pauline Rick
US Public Relations Coordinator
Mercy Ships
Office Tel: (903) 939-7000
Mob: (972) 922-5442
Email: us.media@mercyships.org
For Int'l: Diane Rickard
International Media Manager
Mercy Ships
Diane.rickard@mercyships.org
Hi-res photos and general Mercy Ships B-Roll video footage are available upon request.