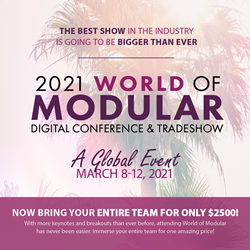 "Having a digital conference provides us with the opportunity to increase access for attendees and feature presentations from around the world. We think this year's conference will be bigger and better than ever."
CHARLOTTESVILLE, Va. (PRWEB) November 19, 2020
Registration is now open for the 2021 World of Modular. The only modular conference organized and managed by the industry and for the industry, this week-long digital conference and trade show will start March 8 and conclude March 12. The conference is being planned as a digital event and will closely follow the format of previous in-person events by featuring educational presentations, digital booths from industry exhibitors, multiple networking opportunities, entertainment, raffles, and a grand prize contest.
Attendees and exhibitors alike will benefit from the wide variety of modular vendors and component suppliers all in one digital setting. Past World of Modular exhibitors have included modular construction contractors, design professionals, traditional contractors that have integrated modular and offsite methods, modular factories, transportation companies, BIM suppliers, materials suppliers, and consultants of all types of modular construction processes.
"We're very excited about World of Modular in 2021," said the executive director for the Modular Building Institute (MBI), Tom Hardiman, CAE. "Having a digital conference provides us with the opportunity to increase access for attendees and feature presentations from around the world. We think this year's conference will be bigger and better than ever."
MBI is the world's largest trade association for the commercial modular construction industry.
If you are interested in learning about modular construction, World of Modular offers unparalleled access to the entire industry. The event is only $500 for MBI members. And, new for 2021, a corporate rate of $2,500 allows member companies unlimited attendees. Exhibiting member companies can register up to 20 attendees for the same price.
Among the keynote speakers will be the ever-popular Anirban Basu, chairman and CEO of Sage Policy Group. Basu, one of the most recognizable economists in and around Washington, DC, returns to World of Modular to offer an informative and entertaining forecast for the construction marketplace. A complete slate of presenters and speakers will be announced soon.
For more information about sponsoring, attending, or exhibiting at World of Modular, please visit http://www.worldofmodular.org.