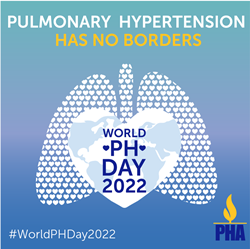 SILVER SPRING, Md. (PRWEB) April 18, 2022
The Pulmonary Hypertension Association (PHA) joins more than 80 organizations around the world on Thursday, May 5, to recognize World PH Day.
World PH Day puts a spotlight on the global impact of pulmonary hypertension (PH), a rare, complex, life-threatening disease. PH has no cure and affects more than 75 million adults and children of all ethnicities globally. PH, or high blood pressure in the lungs, causes symptoms that include shortness of breath, fatigue and chest pain.
The disease is often underdiagnosed, misunderstood or misdiagnosed with more common illnesses, such as asthma. While there is no cure for PH, accurate early diagnosis and access to correct treatment can improve a patient's quality of life and life expectancy.
Without treatment, the average length of survival is under three years.
PH can exist alone or in association with other conditions. In the U.S., PH is most associated with left heart disease. Other PH-associated conditions and risks include connective tissue disorders, blood clots to the lungs, HIV, sickle cell anemia, COPD, sarcoidosis and living in high altitudes. It has also been associated with methamphetamine use.
This year, PHA's World PH Day theme is "Pulmonary Hypertension Has No Borders." PH can affect anyone regardless of age, sex, race, social or ethnic background. PHA is joining the Pulmonary Vascular Research Institute (PVRI), based in Canterbury, England, to raise global awareness around the lack of treatment access and needed care for PH patients, particularly those caught in war and tragedy, like the current conflict in the Ukraine.
"As we look ahead to World PH Day in May, it's important to remember that such efforts are critical not only in Ukraine and surrounding countries affected by war. They also are crucial for PH communities from Afghanistan to Ethiopia, Syria and Yemen, and other parts of the world affected by war, poverty and disaster," says Matt Granato, PHA president and CEO.
As the COVID-19 pandemic continues, most World PH Day events will take place virtually while some events will be held in-person with safety precautions in place.
Matt Granato will be joining the MEP Lung Health Group and PHA Europe for a live panel discussion, "A Stronger European Response to Rare Diseases - The Case of Pulmonary Hypertension" on April 26 from 10 to 11:30 a.m. Central European Time. The panel will address the European Parliament and the presentation will stream on Facebook Live.
In the U.S., to raise awareness and promote advocacy, PHA will be hosting virtual legislative visits on May 4 and 5 for World PH Day. Advocates will meet with key congressional members of legislative committees that are overseeing PHA's top-priority bills, including the Safe Step Act (S. 464, H.R. 2163) and the HELP Copays Act (H.R. 5801).
PHA will have a parallel advocacy action for the PH community to engage in on May 5 to support advocacy efforts on Capitol Hill. Patients, caregivers and health care professionals can use PHA's email template in PHA's Advocacy Action Center to write to legislators. The template will encourage Congress to support PHA's priority bills and a budget increase of $49 billion for National Institutes of Health funding so researchers and scientists can continue life-saving PH research.
PHA will also host three in-person events in May. All O2breathe event attendees must be fully vaccinated (two vaccinations plus a booster, or one J&J vaccination plus a booster) or show a negative COVID-19 PCR-test within 48 hours of the event.

PHA encourages the global PH community to raise awareness on social media through posts using the #WorldPHDay2022 hashtag.
Individuals can visit the World PH Day page on PHA's website for more information about PH and to learn how they can participate in this year's campaign. PHA's World PH Day webpage includes a digital toolkit with educational messages, images and other social media resources. Spanish and French resources are also available.
About the Pulmonary Hypertension Association
Headquartered in Silver Spring, Maryland, the Pulmonary Hypertension Association (PHA) is the oldest and largest nonprofit patient association dedicated to the pulmonary hypertension (PH) community. Pulmonary hypertension is a rare, chronic and life-threatening disease of the lungs for which no cure currently exists.
PHA's mission is to extend and improve the lives of those affected by PH. To achieve this mission, PHA engages people with PH and their families, caregivers, health care providers, and researchers worldwide who work together to advocate for the PH community, provide support to patients, caregivers and families, offer up- to-date education and information on PH, improve quality patient care, and fund and promote research. For more information, visit phassociation.org and phassociation.org/WorldPHDay and connect with PHA on Twitter, Instagram and Facebook.