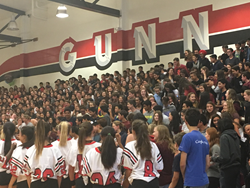 We hope the film will serve as a mode of healing and an impetus for change. It will also shed light for others out there that might be grappling to understand heartbreaking tragedies like this.
LOS ANGELES (PRWEB) October 11, 2018
Co-directors Liza Meak and Kathryn Basiji are proud to present the World Premiere of "The Edge of Success", a feature-length documentary film with startling insights into two Palo Alto teenage suicide clusters that occurred between 2009 - 2015, while also uncovering the potential causes of a burgeoning teen mental health crisis. The film's World Premiere will take place on Thursday, October 18, 2018, at the Regal Cinemas L.A. LIVE (1000 W Olympic Blvd) at 9:20 p.m. in Downtown Los Angeles, CA, as an Official Selection of the 10th Annual DTLA Film Festival.
Kathryn Basiji, a graduate of Palo Alto's Gunn High School (which the deceased students attended), joined forces with Liza Meak, an award-winning NBC investigative journalist and producer of the critically acclaimed documentary, "Batkid Begins" (New Line Cinema).
Meak says, "We wanted to tell this story from the inside perspective of this exclusive and somewhat mysterious community that was shaken by these shocking events. We were able to shadow six students through their junior and senior years to gain insight on what really happens behind-the-scenes at one of the best high schools in the nation. It was paramount to understand and share the pressures these kids face and see what if any correlation there was to the tragic teenage deaths."
Palo Alto, California, sits in the heart of Silicon Valley, just a few miles from tech giants like Google and Facebook, and home to Stanford University. Some of the wealthiest and smartest people in the world call this Bay Area city home, but it's also home to a sobering statistic. In recent years, there have been two high school suicide clusters: the first was between 2009-2010, when five current and former students took their own lives; and five years later, during the 2014/2015 school year, four more students died by suicide.
Basiji explains, "Since the suicide clusters, which garnered national attention, several more recent high school graduates have taken their own lives, and countless others have received both inpatient and outpatient care for treatment of stress, anxiety, and depression. We hope the film will serve as a mode of healing and an impetus for change. It will also shed light for others out there that might be grappling to understand heartbreaking tragedies like this."
The documentary provides an inside-out look at a community struck by tragedy—from the school district to the parents, mental health experts, educators and local pediatricians. They see sleep-deprivation, stress, and anxiety in teenagers they interact with daily and are looking at new approaches to stem the tide of this burgeoning crisis.
While Palo Alto has made headlines for their tragedies, "The Edge of Success" explores the national implications of the city's crisis.
The film doesn't claim to solve the problem, but it will provide an intimate, honest, and gripping first hand account that will spark important dialogue over what can be done to improve the state of mental health for adolescents and teens.
The filmmakers are in talks for strategic partnerships with suicide prevention non-profit organizations.
The film will have its next screening at the Portland Film Festival on Wednesday, October 24th at 7:00 p.m.
"The Edge of Success" is co-directed by Liza Meak and Kathryn Basiji. It is Basiji's first foray into directing. The director of photography is industry veteran Steve Pitre, and editing is by Emmy winner Jeff Clayton.
For more information, please visit http://www.edgeofsuccessmovie.com. Tickets for the DTLA Film Festival are available at http://www.dtlaff.com.
Website: http://www.edgeofsuccessmovie.com
Trailer: https://vimeo.com/290304216
Facebook: @Edgeofsuccessmovie
Instagram: @Edgeofsuccessmovie
Twitter: @EdgeSuccessDoc
From the Film's End Credits:
If you or someone you know is in need of help, please reach out and talk to someone.
Resources:
National Suicide Prevention Hotline
1-800-273-8255
http://www.suicidepreventionlifeline.org
24/7 free and confidential support and crisis resources for you and your loved ones.
Crisis Text Line
Text HOME
To 741741
http://www.crisistextline.org