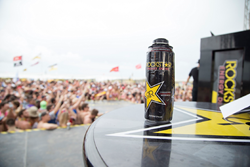 Being able to give the students what they want musically is a real thrill for us
WHEATON, Ill. (PRWEB) October 11, 2018
The queen of hip hop is coming to Spring Break in 2019. Cardi B will perform live at Rockstar Beach, behind the Isla Grand Beach Resort in South Padre Island, TX on March 13.
On the same day, exciting up and coming artist Rich the Kid will perform. Both shows are billed together as one mega concert event and are included free with the Padremaniac VIP Card, now being sold online. Tickets for this concert are also being sold individually at beachbashmusicfest.com.
Reality TV icon and live music sensation, DJ Pauly D, has also confirmed that he will perform live during Spring Break 2019 at all three major domestic Spring Break destinations, including Daytona Beach (March 5), South Padre Island (March 10, 20) and Panama City Beach (March 12).
CMG Media Agency, the marketing force behind Spring Break at the above major domestic destinations is preparing for what will be another event-filled season which will include helping its partnered brands become further exposed to college students via a myriad of experiential marketing strategies.
"Being able to book talented mega-acts like Cardi B, DJ Pauly D and Rich the Kid is extremely exciting and it's what Spring Break is all about," said Carm Giardina, a representative of CMG Media Agency. "Part of the experiential strategy that we're able to provide for our partners is concerts and events like the Beach Bash Music Fest – Spring Break's biggest and hottest event."
Giardina also adds that "being able to give the students what they want musically is a real thrill for us. It's immensely fun for the students and it works as a beneficial platform for the brands that are a part of it."
Rockstar Energy Drink has definitely seen those benefits from partnering with CMG on these types of events. So much so, they've sponsored the entire beach behind the Isla Grand Beach Resort in South Padre Island, TX. What used to be prime property for Coca-Cola (once referred as Coca-Cola Beach) is now Rockstar Beach, and the energy drink brand is about to enter in its fourth year as a sponsoring partner. In fact, things are going so well that Rockstar has expanded its Spring Break reach and has signed with CMG to become a major partner for both Panama City Beach, FL and Daytona Beach, FL for 2019.
Other brands are latching on more quickly than ever before. "They see the branding potential and their contacting us earlier than was the case in previous years so that they can be assured of a spot," says Giardina.
Tickets or VIP Cards for Spring Break 2019 are being sold now and range in prices depending on the destination you're planning to attend and whether you want a full week's worth of events or just the one concert. For more information on these events, visit http://www.maniaccard.com. More concert announcements are expected in the coming weeks ahead.
About CMG Media:
CMG Media provides North America-wide services to corporate brands specifically targeting the college market through a variety of experiential services, including strategic social media networking, on-site campus promotions, nation-wide events programming, and Spring Break destination events and promotions. For more specific information, please visit their website at http://www.cmgmediaagency.com
About the Beach Bash Music Fest:
According to Rolling Stone Magazine, The Beach Bash Music Fest is the "biggest daytime beach party in the USA!" This amazing event features the biggest national performers performing on the largest stage at three of the hottest destinations to be on Spring Break, including South Padre Island, TX, Panama City Beach, FL, and Daytona Beach, FL.