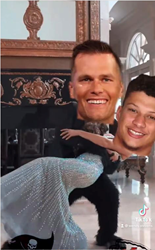 ST. PETERSBURG, Fla. (PRWEB) March 01, 2021
Using mystery and intrigue, 21 year Guerrilla Marketing veteran expert Wendy Stevens created a viral social media sensation through her debut TikTok campaign only a few days after opening her account, newsjacking Tom Brady's 10th Super Bowl appearance along with the most anticipated matchup in over a decade between the Tampa Bay Buccaneers and Patrick Mahomes and the Kansas City Chiefs.
Her clever campaign featured the "Gorilla Dance" and invited anyone to film a duet with "The Gorilla" only later to find out that the "Gorilla" turns into Tom Brady while he "dips" "Belle" the beautiful woman dancing with him who morphs into Patrick Mahomes. The grand prize winner with the most orginal dance won an all-expense paid trip and coveted ticket to Super Bowl 55 in Tampa, Florida. Winner Ethan Trace (@ethantrace) of TikTok was revealed the night of the Super Bowl.
The next day's giveaway was an authenticated, autographed Tom Brady Tampa Bay Buccaneers Number 12 jersey.
Wendy's campaign amply demonstrates that TikTok is not just for kids and cat videos. TikTok for business can convert leads, traffic and sales for businesses at a record level. Over 7,300 leads were generated during the campaign.
The Who is the Gorilla campaign morphed into "The Masked Guerrilla Marketer", and beginning April 1st each week will feature celebrity marketers and entrepreneurs who have created 7 and 8 Figure Businesses through brilliant strategic marketing strategies. They will share their personal success formula with the Guerrilla tribe, Monday through Thursday. Friday will feature "The Big Reveal", as that week's Masked Guerrilla Marketer takes off the mask and shows his or her face to the world.
The goal of Wendy's TikTok Masked Guerrilla Marketer campaign is to release her book "Guerrilla Marketing To Women" designed to teach, train, coach and mentor young women including those freed from human trafficking to create their own guerrilla success stories and gain financial independence.
More information is available at: TikTok Tom Brady & Super Bowl Contest
About Wendy Stevens:
Renowned Guerrilla Marketing expert consultant Wendy Stevens is coauthor of The Best of Guerrilla Marketing with Jay Conrad Levinson and Seth Godin. She has trained more than 80,000 people in 136 countries to help them master the art of digital marketing using proven Guerrilla Marketing strategy and tactics to convert traffic, leads and sales.
Contact Information:
(Guerrilla Marketing Agency)
https://guerrillamarketingagency.live
Helpful Links:
http://www.Linkedin.com/in/CoachWendyStevens
https://coachwendystevens.com