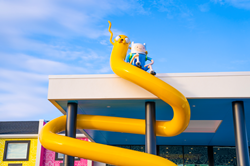 LANCASTER, Pa. (PRWEB) July 30, 2020
The Cartoon Network Hotel is officially reopening on Monday, August 3. Adhering closely to guidelines set by the Centers for Disease Control and Prevention (CDC) as well as local and national government officials in response to COVID-19, the Hotel will be implementing strengthened sanitation procedures and new safety measures for the health of all team members and guests.
"The health and safety of our guests and team members continues to be our top priority as we work to reopen the Cartoon Network Hotel in this new environment," said General Manager Ryan O'Donnell. "We will continue working in step with local leaders, health experts and our industry colleagues to ensure best practices are in place at the Hotel."
Key elements of the Cartoon Network Hotel's new safety measures include:
 Limiting Capacity
 Temperature Checks Upon Arrival
 Face Coverings and Personal Protective Equipment
 Social Distancing
 Adding Sanitizing Stations
 Enhancing Cleaning Measures
 Educating Guests & Team Members
The Hotel will limit not just overall capacity on the property, but also the number of guests in each dining location, the Cartoon Network Hotel store, and every recreational area to ensure compliance with recommended social distancing standards.
Upon arrival, guests will find signage reinforcing the importance of social distancing, following markers placed on the ground throughout the property, parking lots and entrance areas. All guests and team members will be required to have their temperature checked before entering the Hotel, with any person exhibiting a temperature of 100.4° Fahrenheit or higher (or displaying other symptoms related to COVID-19) denied entry.
Face masks will be required for all team members and guests in common areas, except children under three years of age. Guests will be required to remove their masks in water attractions including both pools and "The Powerpuff Girls" "Splashville" splash pad. Team members may also wear additional personal protective equipment, including gloves and/or face shields, while performing select work activities. Hand sanitizing stations have been added all around the property, and thorough cleaning will be conducted at regular intervals throughout the day at high-traffic locations. All of these cleaning and safety measures will be reinforced through instructional signage and additional staff training, and visitors will be able to purchase masks and hand sanitizer at the Cartoon Network Hotel store, located just off the main lobby.
Visitors will find new sights beyond the cleaning and safety measures. With the arrival of warm summer weather comes the official opening of the property's new resort-style, zero entry pool complete with a water slide, cabanas for rent, and the Land of P'Oool Outdoor Concession Stand. Next to the pool, guests can enjoy the new "The Powerpuff Girls" "Splashville" splash pad. And, to round out the summer experience, the Hotel will premiere its outdoor movie screen. All of these additions will also be subject to the cleaning measures listed above.
For more information on the Cartoon Network Hotel's plans for this summer, including the new health and safety measures guests can expect, please go to http://www.cartoonnetworkhotel.com/summer2020.
About Cartoon Network
Cartoon Network is a division of WarnerMedia and the #1 global animated series network, offering the best in original content for kids and families with such hits as "Ben 10," "Craig of the Creek," "Steven Universe," "The Amazing World of Gumball," "The Powerpuff Girls," and "We Bare Bears." Seen in 187 countries, over 450 million homes and in 33 languages, Cartoon Network inspires the next generation of creators and innovators by engaging its audience at the intersection of creativity and technology. Its award-winning pro-social initiatives, "Stop Bullying: Speak Up" and CN Buddy Network are acknowledged and often used resources for kids and adults looking for tools that can assist in dealing with the ongoing issue of bullying.
Warner Bros. Consumer Products (WBCP), a WarnerMedia Company, extends the Studio's powerful portfolio of entertainment brands and franchises into the lives of fans around the world. WBCP partners with best-in-class licensees globally on an award-winning range of toys, fashion, home décor, and publishing inspired by franchises and properties such as DC, Wizarding World, Looney Tunes, Hanna-Barbera, HBO, Cartoon Network and Adult Swim. The division's successful global themed entertainment business includes groundbreaking experiences such as The Wizarding World of Harry Potter and Warner Bros. World Abu Dhabi. With innovative global licensing and merchandising programs, retail initiatives, promotional partnerships and themed experiences, WBCP is one of the leading licensing and retail merchandising organizations in the world.
WarnerMedia is a leading media and entertainment company that creates and distributes premium and popular content from a diverse array of talented storytellers and journalists to global audiences through its consumer brands including: HBO, HBO Now, HBO Max, Warner Bros., TNT, TBS, truTV, CNN, DC, New Line, Cartoon Network, Adult Swim, Turner Classic Movies and others. Warner Media is part of AT&T Inc.
About Palace Entertainment
The Cartoon Network Hotel is owned and operated by Palace Entertainment, one of the leading leisure park operators in the United States, with 21 major entertainment and educational venues across 10 different states offering a wide range of family-friendly rides, attractions and educational experiences. Palace Entertainment is part of Parques Reunidos, one of the leading global operators, with more than 60 different assets (theme parks, zoos and marine parks, water parks and other attractions), spread out over various countries across Europe, North America, the Middle East, and Australia.
###