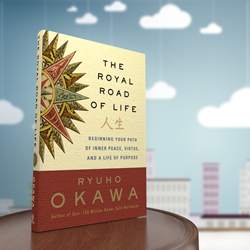 Ryuho Okawa illuminates a path to become a person of virtue who inspires others towards the same meaningful destination. Cultivate inner peace and rebuild your life despite setbacks or adversity.
NEW YORK (PRWEB) April 23, 2020
With over thirty years of lectures and teachings spanning diverse topics of faith, self-growth and leadership, World Teacher and Founder of Happy Science, Ryuho Okawa, presents the profound Eastern wisdom that he has cultivated in his approach to life. "The Royal Road of Life" teaches a lifestyle to master the mind through developing character, chiseled by dignity, wisdom and morality, while keeping a perspective of spirituality.
To explore inner peace, in a manner that we can gain a sense of peace-inducing mystical union with the divine, Okawa condemns worrying and extends discourse on how to further peace of mind. Included are techniques for: allocating time for silence, refraining from anger through mindfulness of thoughts and actions, cultivating a tolerant heart, allowing time to resolve problems, and the courage to apologize when one has wronged another. Okawa explains how embodied virtues can carry on into the afterlife, giving credence to the Buddhist concept of abandoning attachments as a precursor to happiness.
By exploring qualities of both successful and unhappy people, Okawa strongly asserts that resentment must be cast away if one is to be successful in this world. Okawa explains, at depth, that success exists in perseverance and humility, and unhappy people tend to retreat before success has a chance to flourish.
An often overlooked, but profoundly important concept is time management, which is cleverly presented in this text. Okawa denotes that a 24-hour day can be perceived in the context of density, area and volume, and demonstrates that an abundance of activities can be performed within 24 hours, provided that essential matters are addressed first. This concept is explained in accordance with the 80:20 ratio, first developed by Italian economist Vilfredo Pareto, which posits that when 100% must be accomplished, concentrating on 20% of essentials will yield a success rate of 80%. In other words, what presents as 10 hours of work can be accomplished in 2 hours, if only crucial tasks are performed. Furthermore, this implies that 5x the amount of work can be accomplished in a 10-hour span, a valuable motif for entrepreneurs and proponents of workplace optimization.
Okawa introduces subconscious guidance as inherently benevolent and inspiring. Unlike a secular perspective, Okawa perceives the subconscious in a spiritual sense, as an influence that constantly steers towards something greater. Despite difficulties and hardships, our mind benefits from diverse experiences. Those who recognize this dynamic often become exceptional mentors, and Okawa seeks to nurture benevolent leaders by introducing the preeminent values of respect, wisdom, belief, righteousness and courage as "Five Conditions and Virtues of a True Leader." Okawa reinforces the importance of thinking and acting strategically, taking care to preserve one's mental and physical health.
As global norms shift, due to the unprecedented events of this year, allay thoughts of distress and melancholy by channeling mindful exploration. Through spiritual progress, Okawa teaches to guard from extreme mental states and invokes timeless wisdom to inspire modern-day happiness influencers. "On this path towards perfection, we will experience lasting and meaningful joy through self-development," says Okawa. "The Royal Road of Life" illuminates a path to become a person of virtue, whose character and depth will move and inspire others towards the same meaningful destination.
"The Royal Road of Life" is available at all major bookstores nationwide, including Barnes & Noble and Amazon.